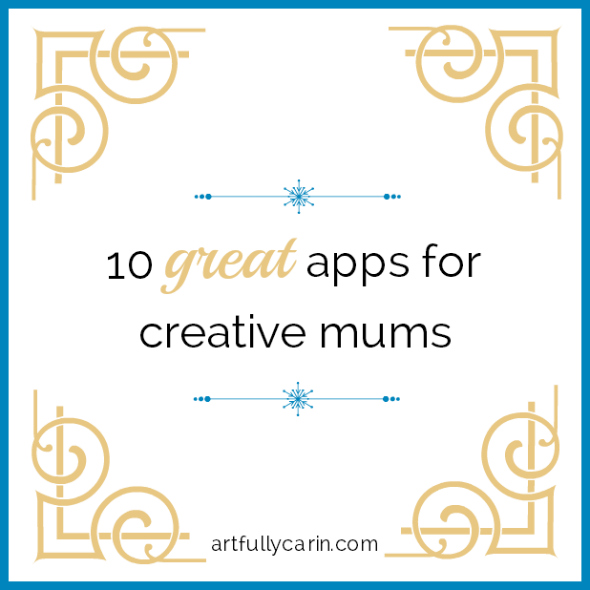 There are tonnes of apps out there for all kinds of situations. It can be hard to find the right ones for you. I have found most of mine through word of mouth and personal recommendations, so today I thought I'd pass it on and share 10 great apps for creative mums. I use these all the time and love them.
All the names link to the app page on iTunes.
Developer: Instagram Inc
Cost: free
Availability: iPhone, Android
Instagram is my favourite social media app. It lets you take and share square photos and short videos with your followers and across other social media platforms. You can customise your photos and videos of everyday moments and creative projects with filters, borders, blurs, and more. It has a fantastic community and is definitely worth a try if you are not on it already.
(Psst, you'll find me there as @artfullycarin)
Developer: Fog Creek Software
Cost: free
Availability: iPhone, iPad, Android
When I started using  Trello, the first words out of my mouth were "Oh my gosh. I'm in list making heaven". Out of all the list-making and note apps out there (and I've tried a few) this is my absolute favourite. A year or so in, and I use it daily for everything from running clothes lists for the kids (they grow too fast!) to project ideas for the house and blog.
The Trello system is made up of boards, lists, and cards. A default board comes with three lists (to do, doing, and done), but you can easily add or remove lists and rename them to something more suitable. I do all the time. The lists are made up of cards. Inside each card you can add checklists (my favourite!), comments, and attachments. You can also colour code projects, set due dates and invite other people. Download it to your computer too to get the absolute best of it. It syncs automatically.
It's great for creative mums who want an app to keep track of creative projects of all kinds. It's easy to use and very visual. Check it out here.
Developer: Sympoz Inc
Cost: free
Availability: iPhone, iPad, Android
Craftsy is my go to place to learn a number of new skills. They have more than 500 online classes in photography, cake decorating, cooking, drawing, painting, quilting, knitting, sewing, embroidery, jewellery making, and much more. Some are free, some cost a small sum of money. It's basically a creative mama's dream place. I use it a lot, and their app lets me catch up on classes wherever I am. I highly recommend their classes and their app.
Developer: Benjamin Hsu
Cost: £1.49 (there's also a lite version available for free)
Availability: iPhone, iPad
I tried doing a 365 project using my big camera a few years ago, and it was hard. I didn't always feel like lugging it around, and I often found myself scrambling around to take a photo at bedtime in dismal light because I'd forgotten. This app makes it a whole lot easier.
The app lets you add a photo (or more) a day from your phone camera or albums to a calendar. You can set reminders. You can then share your photos to your favourite social media site (like Instagram) or email them on to whomever you want. You can also create postcards and photo books straight from the app. It's lovely, and quite addictive, especially when you start seeing the monthly views fill up with pictures.
Developer: Dulcetta
Cost: free
Availability: iPhone, iPad, Android
[email protected] is a neuroscience based music subscription service that helps you concentrate on what you're doing while you're working, studying, writing, or reading. I use it a lot for blogging, especially when I write the final draft, and I'd say this will be best suited for writers of any kind, although I've been known to use it while making art and crafting too.
Developer: SocialTram
Cost: free
Availability: iPhone, Android
Guidecentral is a great app for finding new project ideas. Makers from around the world share their crafts, recipes, home decor projects, fashion and beauty tips, and other lifehacks. And if you already make stuff for family and friends, or share tutorials online, you can become one of their makers and earn money from your projects.
(Psst, you can find my Guidecentral profile here)
Developer: Touch Screen Craft
Cost: £0.69
Availability: iPhone, iPad
This is a great app for anyone who likes embroidery and cross-stitch as much as I do. It lets you keep track of all your DMC threads. You can mark which ones you own, don't own it, have on a bobbin, and need to buy (and specify how many).  They also have thread tracker apps for Anchor (Thread Tracker 4635) and Madeira (Thread Tracker C40) at the same price.
Developer: Simple Simple
Cost: £0.99
Availability: iPhone
Landcam is an all-in-one camera and square photo editor. It has 30+ filters, 35+ fonts, 100+ borders, shapes and textures, and 13 adjustment tools. When you're done, you can hit save or share across social media.  This is pretty much the only photo editing tool I use now for photos I want to share on Instagram since it has a couple of filters that I adore and use all the time.
Developer: ShiftyJelly PTY LTD
Cost: £2.49
Availability: iPhone, iPad, Android
There are lots of podcasts available for creative people, and many of them are well worth a listen. Over the years I have tried several apps to get the best experience. Out of all of them, Pocket Casts is my favourite. It is a great, user-friendly app with useful features like letting you skip intros automatically, great search facilities, and reliable downloads and streaming. It's the most expensive app I've mentioned today, but if you love podcasts, it's well worth it.
Developer: Tayasui
Cost: free
Availability: iPhone, iPad
Sketches is a virtual canvas that lets you put your ideas down using various pencils, pens, watercolours, and oil pastels. Even though I only found it recently, I already use it a lot for sketching down project ideas. I can only imagine what I'll do when I get used to it. I'm sure you would love it too.
I hope you found a new app here that you want to try out. What are your favourites? Any recommendations?