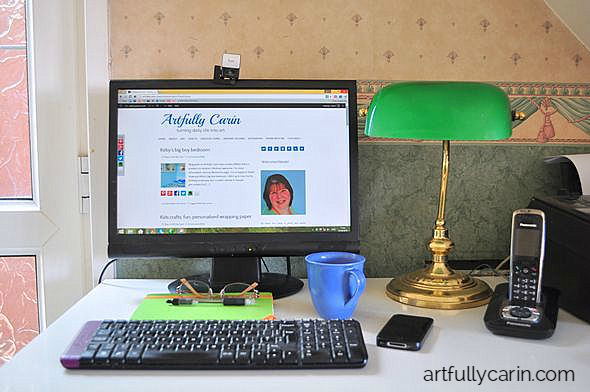 One of the questions I get asked the most is how I fit in blogging and making arts and crafts with being a stay at home mum. I wrote a series on how I don't fit it all in a few years back, but I still get asked that question a lot, so today I'm taking you behind the scenes so you can see a day in my life.
A few things have changed since I wrote that series though.
1. Kirby is in preschool three hours a day, which is great since I know I have a set amount of time to work on projects every day.
2. As of this year I have started treating the blog as a business, and have registered self employed, so I guess that now makes me a work at home mum. Our PC died shortly after I made that public, which threw me for a loop for a while,  but I'm back to normal now and working on increasing the number of posts per week. I plan to be back up to three by the time Kirby starts school in September. I used to write three times a week when I mixed in family posts and I do miss that frequency, but tutorials and the like take longer.
3. Alan has changed positions in the company he works for and is often home a lot earlier than he was back then, which means I can pop out for a power walk or head out to the craft room for an hour after he gets back.
I'm loosely organised with my time. Sticking to a routine gives me the time and freedom to do the things I love, even when things go wrong. Saying that, I still DON'T do everything. I've put some things on hold for now. There are some things I can't wait to pick up again when Kirby start school, others have to wait a few more years.
So with all that in mind, this is what a day in my life looks like right now. I will write another day in the life post in the autumn after Kirby has settled into school. I can't wait to see what happens when I have the whole school day at my disposal.
4.30 am- 7 am: quiet blog work
Even though the alarm doesn't go off until 6 am, I usually wake up early. I love this time of the morning. The few times I do sleep till 6 am I feel like I've missed out!
Since the rest of the family is sleeping, I head off to my small blogging hub under the stairs. I use this time to do quiet, focused work. I try to concentrate on one thing per day and I try to be two to three posts ahead. I do admin, draft and schedule blog posts and social media, brainstorm in my journal, and plan out future posts and projects on Trello.
It may seem like quite a time consuming extra step, but I have found that planning things out on Trello first saves me a lot of time in the long run. I do quite detailed checklists for tutorials, because they help me see exactly what I need to do when, and what photos I need to take. I used to get so caught up in making things that I forgot to take photos. Now I have it all mapped out. It also helps me when I think of projects months in advance.
I then spend a little bit of time catching up on blogs and the like before waking the kids.
7 am- 9 am: family time
I get the kids up, dressed and fed, then take Aoife to school. We have some great chats on the ways to school.
9 am- 11.30 am: home and family time
When we get back from dropping Aoife at school, I play with Kirby, do some housework and prep dinner. Sometimes I chat with my mum on Skype. I try to limit errands to once a week so I can get on at home. Then I have a light lunch with Kirby before I take him to preschool.
11.30 am- 2.30 pm: project time
It's usually more like two and a half hours, since it takes a while to get to preschool and back, but still…project time! When I get in, I pour myself a pint of water and head out to the craft room or deck to make and photograph whatever project I'm working on. Other times I work on a decorating or DIY projects around the house. I usually listen to music or podcasts while I work. And before I know it my alarm goes and it's time to stop.
2.30 pm- 7.30 pm: family time
I pick up Aoife and Kirby from school, oversee homework, let them play for a bit, and finish off dinner. In the spring and summer we usually have dinner at 6 pm so they have a chance to play with the neighbourhood kids first. In the winter I usually have dinner on the table a bit earlier. Then it's play time until bedtime. Sometimes I throw them a surprise party. Just because. I'll write more on that later. Now the weather is getting better, we're outside a lot. If Al gets back early enough, I go out for a power walk, spend an hour in the craft room, or sneak off to the bedroom to read. Now it's lighter longer I hope to get ahead on photographing tutorials too.
7.30 pm-9.30 pm: quiet work/ relax time
If Al is at home, we relax, watch a show or two, and catch up on each other's day. If he's at the gym, I edit photos, carry on with one of the courses I'm taking, and catch up on blogs. I try to avoid writing blog posts at that time of night because my brain has fried, but some days it's the only time I have. Since I get up so early I'm usually in bed by 9.30- 10 pm.
***
Of course, this is based on a normal day. If the kids are sick, have had nightmares all night, or my back goes, the day looks very different. If they do happen, or the weather is grey and miserable all week and I can't get any half decent pictures, I try to catch up a little at the weekend. Otherwise the weekends are for doing things around the house, catching up with friends, or heading off on little outings.
So that's a sample day in my life right now. Do you have a structure for your day?