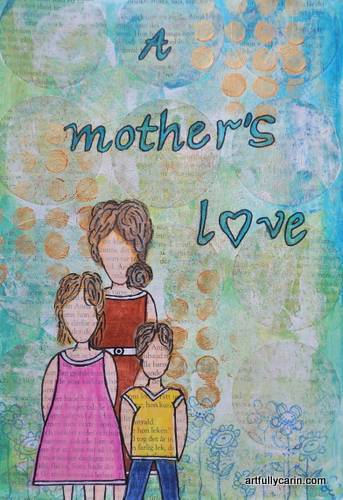 Motherhood is by far the most important job I'll ever do.
I fought long and hard to become a mother and am so happy to finally have those precious kiddos in my life. I'm so grateful I was entrusted with their lives. Entrusted to love them, care for them, teach them. To receive their love in return. They have made me a better person.
I'm grateful I can be here with them and for them all the time.
Yet art pulls me in every single day. It's like a primal need deep within me. I have to make art every day to feel whole. It's a vocation. It feeds my soul, my joy, my faith. And it makes me a kinder, more patient mother. If I don't make art, I get crabby as hell.
So the most loving thing I can do for myself, my family and my friends is to make art.
But being an artist mama can be a lonely business. Working as an artist while caring for a family takes time and commitment. Sometimes sacrifices. Often compromises. It being a passion doesn't change that.
I feel blessed to have met so many wonderful, super-talented artist mamas online. They have been a constant source of inspiration, support and encouragement these past few years. They make my life a whole lot richer and I love them to bits.
I think you'd love them too, so I have a real treat for you…
I'm thrilled to announce that in the fortnight leading up to Valentine's Day I will post a series of interviews with arty mamas I adore. Starting this Saturday, six amazingly talented women will generously open up about their lives as artist mamas. They will share their working processes, their insights, and their trials and triumphs. You do not want to miss it!  (The button below, and the tag "love that arty mama" will always take you to the interviews).
See you Saturday!
***
This art journal page was made using book pages, watersoluble crayons, acrylics, stamps, stencils, ink, and pen.