Welcome to the 5th installment in the love that arty mama interview series! And thank you so much for your wonderful comments on the previous ones, here and elsewhere. Today's arty mama is as colourful as they come and does things with pens that I could only dream of.
Over to the lovely Aimee Dolich from Artsyville…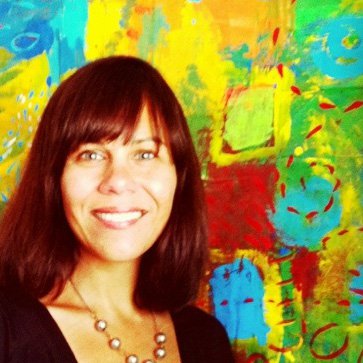 * Please tell us a little bit about yourself and the type of art you make.
Hi Carin! Thanks for asking me to be part of your interview series! I'm a writer and illustrator (I prefer the term doodler!) and I have two girls who are 6 and 10. I love blending color and words into my art, and I draw upon (so to speak) my daily experiences for my inspiration.
* Roughly how often do you make art? Roughly how many hours per day or week?
I've never kept track, so I don't know! It absolutely is a daily practice, though. Some days I only have time for a few minutes and others I'm working hours into the night. But I always make sure that I create something — otherwise I fall off the creative wagon, and it is all too easy to let that happen.
* Do you keep regular working (art) hours, or do you fit art in whenever?
When my kids were younger, I was a master at time manipulation. I'd squeeze in a minute here, five minutes there, whenever someone wasn't throwing food or cutting open a bean bag. I actually create best that way, when I'm under pressure. When I know I don't have time to strategize or plan, I'm forced to get right to it and some of my favorite ideas are born this way.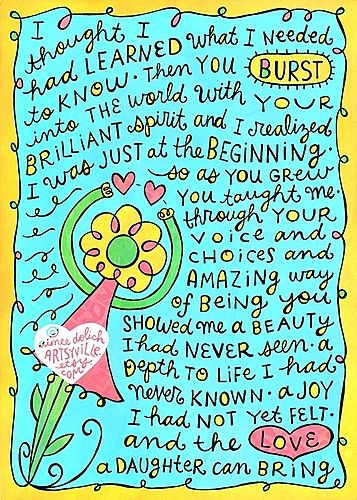 * Do you plan/ schedule your art time in advance?
I used to fly by the seat of my pants (see above) because I had to! Now I have more predictable hours since they are in school, but I have a lot going on outside of my art, so I have to plan ahead for it as best as I can. But as the saying goes, you can't really schedule inspiration.
* Do you have any rituals that take you from Aimee the mum to Aimee the artist?
Coffee (and at night, sometimes a glass of wine.) Peace. Quiet.
* How has having children affected your work (working process, subjects, etc)? And how has art affected your mothering?
In every way possible. I'm not sure that I'd be doing what I do now if it wasn't for them. Kids have an amazing way of stimulating our senses and getting our latent creativity moving. They are also really good at shutting it down! I can't even tell you how many times they've given me an idea, but I haven't been able to act on it. Oh, the agony!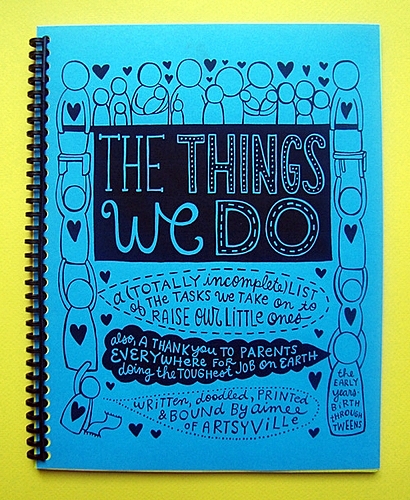 * Does your family get involved in your art making?
We rarely have elaborately planned projects or scheduled art time. But someone is always making something around here! Sometimes they join me, sometimes they don't, but they are always curious as to what I'm up to, and they will often go off on their own & make things. My older one especially needs no encouragement whatsoever. If I let her be, she will take to her entire closet with a pair of scissors and reconfigure every item of clothing.
* As an artist mama, what do you consider your greatest challenges, and how do you overcome them?
I have to go back to my kids' younger days in order to answer that one accurately. It's so different when kids are little. They are constantly growing and discovering and experimenting and NEEDING. If we're working 24/7 in the home, it's a challenge. If we're working both outside and in the home, it's a challenge. Either way, we're constrained for time and energy. When babies, toddlers and preschoolers are underfoot, our time is not our own. We are constantly maintaining order and making sure that everyone is OK, and some days that just means making sure that the household does not explode. It's hard to find time for art on top of that, but it's so important. I will say that I am very selfish in this regard (having me time), and so I have no problem whatsoever carving time out for myself to do it, even if it is only for a small chunk of time. There's lots that you can do in 10 minutes: write a haiku, cut some paper, slap down some paint, learn a crochet stitch, give the kids a sponge full of water and tell them to 'paint' the floor while you compose yourself with a little crafty exploration. It's a matter of getting creative about being creative. Find something that is easy, that fits into the rhythm of your life, and the daily practice will become a habit. And then of course they will get older and more self sufficient, leaving us wondering where their little baby years went.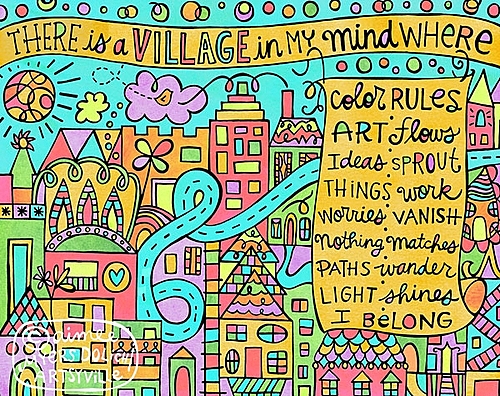 * Do you sell or teach your art, locally or online?
I sell online almost 100%. I rarely sell locally, unless it's a piece that is specific to a particular local area. I don't do much in the way of teaching. I do a few select courses here and there, but teaching is something I much prefer doing in person than online.
* What tools (for example… blog? instagram? twitter? art fairs? gallery shows? etsy? facebook? word of mouth?) have you found the most helpful to get your art known?
My blog was initially the way I connected with most people, but that was back in 2008, which was a digital eon ago. I still love the blog world, but now I'd say I connect mainly through Facebook and Instagram. The art community is wonderful and I enjoy that part even more than selling my work. I never imagined it would be such a rewarding thing to connect with fellow artists and parents everywhere, but I've made many connections that have turned into real live wonderful friendships.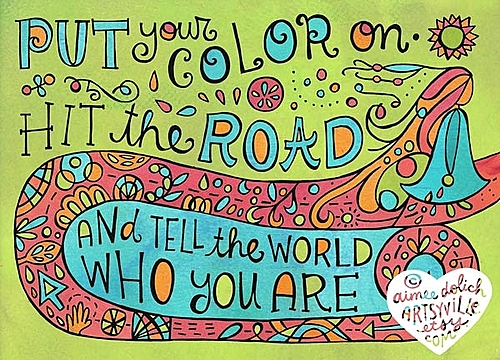 * Where can people find you?
***
Thank you so much to Aimee for taking part in the interview series! All pictures above are copyright Aimee Dolich and posted with permission. As always, all the interviews in this series can be found under the tag love that arty mama, or by clicking the button below. Come back Thursday for a wonderful interview with our last arty mama.