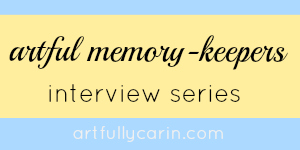 There are so many wonderful ways to document our lives through art. My ways only scratch the surface of what's possible. So now and again, I would like to introduce you to other artists with an interest in memory-keeping in the hope that they will inspire you to find new ways to document life.
Today I'm very happy to bring you an interview with American artist Jenny Frith. Jenny is a talented illustrator, with a special interest in painting animals, and has just finished illustrating her first children's book, The Rabbit Who Wished He Could Fly. She also makes amazing weekly diary style journal pages, often featuring the animals she loves to paint.
Please welcome Jenny!
Please tell us a little bit about yourself:
I am a mom & a wife living outside of Philadelphia, PA. I work full time at an office job but keep myself busy with my artwork, pet portraits, illustration projects, and journaling.  I like making my art journals for my own personal pleasure and memory-keeping, but I love helping other people find and use their own unique creative outlet too.  The community in the journaling world is so warm and encouraging, and it is a gift to meet so many wonderful friends.
What's your preferred medium?
I adore watercolors.  Maybe because they are relatively easy to clean up, but mostly because the colors are clean and vivid.   I also like using white ink, ephemera, and good old fashioned pens/pencils.  A good journal is one of my trusty tools too – Stillman & Birn is currently my favorite brand.
What parts of your life inspires/ motivates you the most?
Animals.  I love animals.   Ever since I was a little girl, they have sparked curiosity and wonder in my heart.  I'm also inspired by memory-keeping, and the idea that you can make the world a little bit better right where you are, in your every-day life.
Do you work from photos or life/ memory?
Reference photos.  I will print out a whole bunch from different angles.  I'll also ask photographers for permission before using their photos, or I will buy online stock photos to use.
How often do you work?
I prepare my weekly journals every Sunday.  I'll fill them in throughout the week.  I also sketch & blog up to 3 times a week after I get home from my day job.
How do you keep track of ideas? Do you keep an idea journal or do you draw things as they come up?
I scribble ideas in a small designated sketchbook that I keep in my purse.  Or I will jot the idea down on sticky notes.  I have a folder that I keep for reference photos too, so I tap into that when I need a little bit of extra inspiration.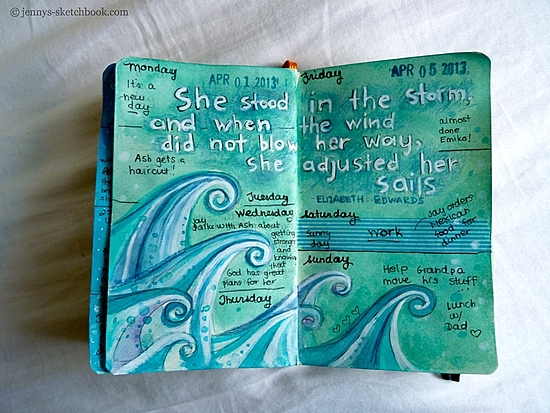 Do you have any advice for someone wanting to get into artful memory-keeping, even if they don't consider themselves an artist?
Make a goal to sketch an entry into your journal, 15 minutes a day for a year, even if the sketches aren't as good as you would want them to be.    If you stick to it for a year, I promise you will surprise yourself.  It will change your creative life for the better.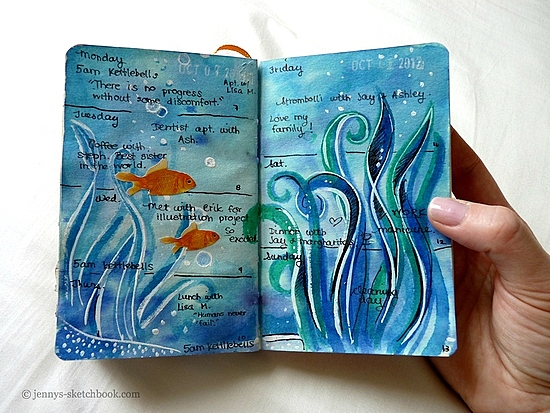 You can find Jenny here:
Blog, Facebook, Twitter, Pinterest, Instagram, YouTube, Google +
Thank you so much to Jenny for sharing her work and process! As a mum of young children, I love her last tip to make a goal to sketch something for 15 minutes a day for a year. 15 minutes is such a small amount of time, yet makes such a big difference.