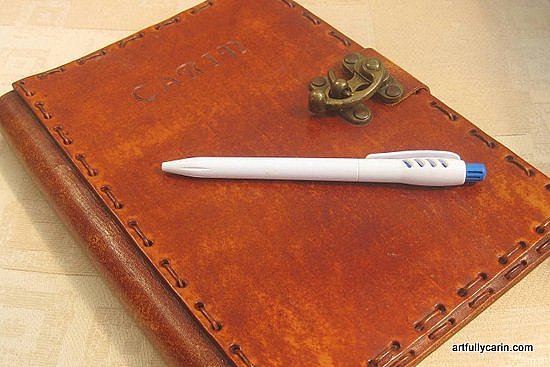 When I share memory-keeping projects,  I often get questions like "How do you even get started on something like that?", or "Where do you get all your ideas from?". So today I thought I'd share a little bit about the early stages of my process.
Much of my art process is intuitive, but when it comes to memory-keeping I do try to be  little bit more intentional about it. There are so many things I want to document, and arting and writing time is precious, so I do take a little bit of extra time up front to come up with ideas. And the journal above is where all the magic happens.
These are some of my favourite ways to brainstorm:
Mind maps
Mind maps are usually my first port of call when it comes to getting ideas onto paper.  I use them for every area of my life. For me they're visual brain dumps. But they easily get cluttered, so I tend to do a big overview one to get all my initial ideas down, then break it down into each branch and work from there. It depends on how much I come up with. When I break it down, I usually come up with even more ideas. I need a bit of space to let my ideas breathe.
To start your own mind map, put your chosen topic in the centre of a piece of paper and circle it. Next, draw branches radiating out from the centre according to categories, followed by smaller branches according to sub-categories. If you're a highly visual person, it may help to colour code them.
Below you'll see the very early stages of a mindmap I made of artful memory-keeping. In this progress shot you can already see the structure of my map.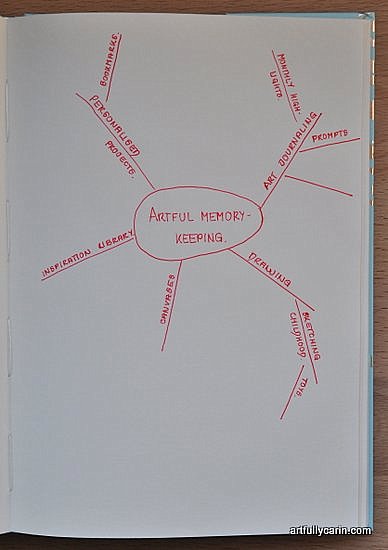 Thumbnail sketches
I began using this technique last year, and seriously don't know what I would do without it. It's been invaluable to me ever since. In fact I think it was around the time of the post I have just linked to that I started to see how my love of art, writing and memory-keeping could be combined in one place, and the seed for Artfully Carin was planted. No wonder I love them so much.
Don't be afraid to draw stick men, or to come up with silly ideas. Nobody but you will see them (unless, of course you choose to share them with the world like I am!!!). They're just for reference, for you to build on.
Below is an example of me trying to come up with an idea for our 18th wedding anniversary a couple of weeks ago. I didn't make a page in the end, but I amalgamated two of the ideas into the journal page I showed in the facebook group post.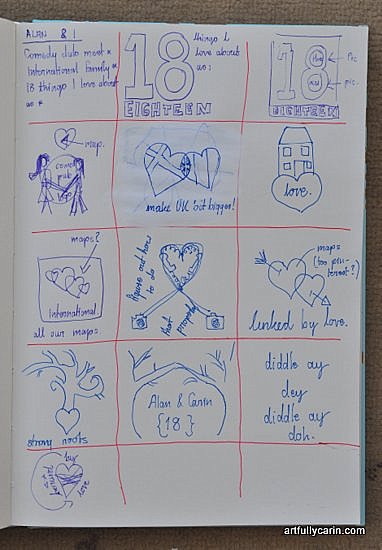 Journaling
I love journaling. I got my first one when I was quite young, and wrote religiously every day for years. I have stopped for a few years here and there, but I always return to it after a while. Journaling, and especially stream of consciousness journaling, is a great way to get ideas you didn't even know you had down on paper.
Lists/ bullet points
I love lists. In memory-keeping, I usually use them when I come to the end of my brainstorming session and try to organize all my thoughts so I know where to go next.
Prompts
Whether you write your own, or look them up on the net, prompts can really help spark ideas. Don't be afraid to go deeper than prompts suggest, or adjusting them to suit your needs. The simple answer to the prompt "What's your favourite holiday destination?" may very well be Greece, but art journaling about the time you walked right into the backside of a donkey in the pitch black because you were too stubborn to accept a flashlight might be funnier, and more original.
True story… And now I totally want to do that page!
If you are interested in using prompts, do a web search for scrapbooking and art journaling prompts. There are tons of lists out there. Also, try writing some of your own. I'll share some of mine here next week.
Finally, and I'm not really sure this can be classed as brainstorming as such, but it's worth mentioning anyway:
Go do something else (but carry a notebook)
I rarely get my best ideas when I'm staring at the blank page of an art journal, sketchbook or blog post. Ideas come when my mind is wandering; when I'm in the shower, out for a walk, on the phone/ skype with a friend, cross-stitching… But they whoosh past at breakneck speed and need to be caught in a notebook before they disappear. Oftentimes they're just fragments-  a "perfect" sentence, or a symbol that speaks to me – that I can then build on.