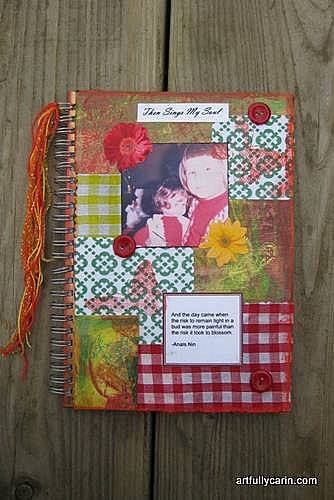 I loved making this. I use a lot of pretty notebooks and journals in day to day life, often paying a fortune for the pleasure, so buying a relatively cheap notebook and decorating it myself was a real treat. I will definitely do this again for other journals.
I used two of my background papers from week one, red and yellow gingham fabric, some scrap book paper I received free with a craft magazine last year, two clip art flower images, a picture of me with my first baby (30+ years later, Aoife adores one of the newer models of the same doll), a few buttons, some inspiring words, inks, paints, oil pastels, and embroidery floss. Stamps by Penny Black and My Sentiments Exactly.
If you want to see what the others have made, visit Trudy's blog here.
Now onto the dreaded poetry tote…