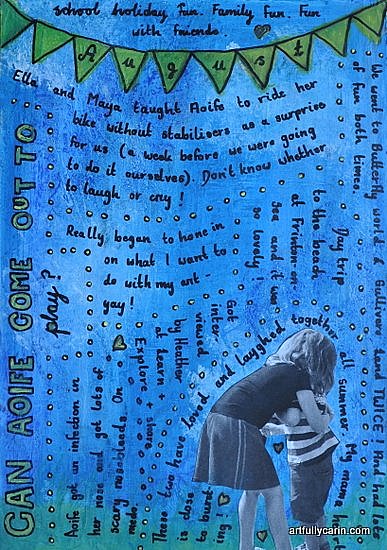 "Mummy, mummy, come quick! I have something really exciting to show you!!!"
Aoife burst into the house, her two sidekicks from down the road right behind her.
"Come on mummy, come now!"
I picked up my house keys and ran outside barefeet.  It sounded urgent and their excitement was contagious.
"I can ride a bike without stabilisers mummy! Look! The girls taught me!" And off she went, on the girl from down the road's bike!
Say what?!
For the next few minutes I felt like I was having an out of body experience; the physical me loudly cheering her on and heaping praise on the girls for a job well done, while my crushed soul looked on, wondering how the heck that happened.
That's not how it's supposed to go.
That's one of the unspoken parenting milestones. A rite of passage. And we'd planned to do it the following weekend. It was long overdue.
But sometimes the milestone is not as important as the achievement. And sometimes the parents are the ones in need of a lesson.
***
Other highlights in August were kite flying on the Downs, a couple of daytrips to Butterfly World, Gullivers Land (children's theme park) and the beach at Frinton- on- Sea.

***
I considered making an illustrated art journal page for August because that's where my main interests lie these days, but with Aoife going back to school this week, I stuck to the simple mixed media format I've developed over the last 8 months (even if only the last few have been shown here). I can see this changing over the next few months though, so watch this space.