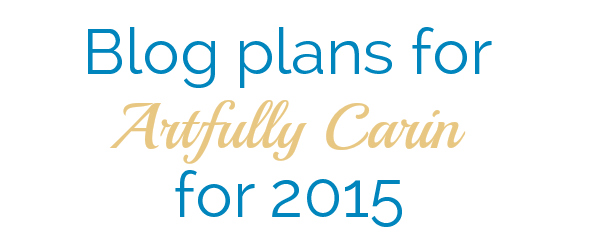 Hello my lovelies and happy new year! I hope you had a great break. Mine was so relaxing. I think I had a nap on the sofa every single day over Christmas and New Year, which was just what I needed, then spent a wonderful week catching up with my mum when she came over to celebrate Kirby's 4th birthday. But I'm back now and ready to crack on with 2015. It's going to be such an exciting year. I have so many fun things planned for the blog and beyond and hope you'll join me.
Celebrating 2014
The last couple of years I have written a list early in the new year celebrating my creative achievements over the past 12 months, but 2014 didn't feel much like a facts and figures kind of year for me, so I'm not going to. It was a great year though. My word for the year was focus and I sure did. I spent a lot of time thinking, praying and journalling, working out who I am at my core and what the purpose of this blog really is. The answer was big, beautiful and exciting, but also kind of scary (in a good way).
Looking forward to 2015
Some years before I started blogging I posted a monthly newsletter online in English and Swedish. A friend helped me make my own website using Word and showed me how to update it using an FTP. It was a heck of a lot of work for not much feedback. When I gave up on the website someone suggested that I should start a blog instead, but I resisted for the longest time. I'm so happy I eventually changed my mind.
I have been blogging for about 6 years now and love it. It has changed my life in so many ways. I feel like I've grown into myself and who I am meant to be through the blog. What started as a simple tool to keep family up-to-date has gone through countless changes with me while I rediscovered my creativity, found my inner artist, and made the most awesome friends I never had the pleasure of meeting.
Over the last year, the way I view the blog has changed. It has become a vocation. In my heart it is less about me and more about you. So I want you to know what to expect when you come here.
This year I want to treat the blog more like a business so that I can plan my days and content better. I kind of fly by the seat of my pants at the moment and it's not working. To get me started, I got this gorgeous planner
 by Monica Lee from Smart Creative Women. It's wonderful and already filling up nicely. It helps that it has my word of the year on the front as a constant reminder. It was meant to be!
Blog plans:
These are just some of the things I have planned for the year.
* post more regularly
* write about all aspects of turning daily life into art (art and crafts, decorating, creative living and more)
* make more tutorials, including video based ones (which I've never done before)
* interview more inspiring women who celebrate the every day and turn their daily lives into art.
* publish a regular newsletter with bonus content
* make the blog more user friendly, and
* continue to improve my skills in various areas to make the blog experience nicer for you
What do you think?
I hope you'll join me this year as I delve deeper into turning daily life into art.  Happy 2015!