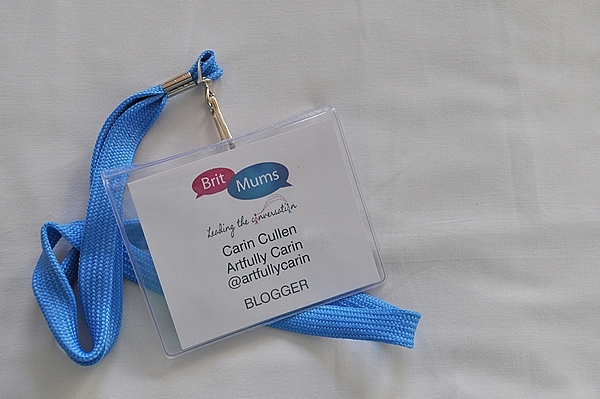 On Friday 20th June, I travelled down to London to spend the next day and a half with 700 other bloggers going to the blog conference Britmums Live 2014.
I had an amazing time!
I'm lucky enough to live fairly close to London, so I didn't have to drag myself out of bed at the crack of dawn to make it down there for the 12 o'clock pre-meet like so many others, but could have a pretty relaxing morning with my family before heading down on the train. It made all the difference. By the time I got to the coffee shop for the newbie pre-meet, I was no longer nervous, just very excited to meet everyone.
Having said that, arriving at the venue was a little overwhelming. After spending most of my days with one three year old, seeing 700 excited bloggers in one space was a bit of a shock to the system. Somehow, in that mass of people, I spotted Em from Snowing Indoors, who was the first Britmums blog I visited after joining last year and has been a favourite ever since. It made everything better. It reassured me that I would recognise a lot of the people I have talked to online from their blogs or twitter avatars. I was okay after that (Em, on the other hand, may not have recovered quite so quickly from me attacking her with a hug!).
The sessions
I have to admit that I had been wondering if the sessions would be worth my while. I've been blogging for about 5 years now and have been pretty good at finding information as and when I need it. Thankfully pretty much every session I went to taught me a little something new, or made me look at something in a different way.
These were my favourite sessions (in no particular order):
* Design tips to make your blog look gorgeous with Lucy from Capture by Lucy.
Lucy is one of my favourite bloggers, and has been so kind to me since I first started talking to her online, so I knew I'd go to her session no matter what else was on the agenda. I wasn't the only one- her session was packed (standing room only). And it was a good one. It mostly confirmed that I'm on the right track, but I also figured out a couple of small tweaks I'd like to make to my blog design over the summer.
Being squished in a corner, I couldn't really take notes, or photograph the slides, but I know she will put the notes on her blog in the next week or two, so go there for more.
Lucy later won the Bibs (Brilliance in Blogging awards) for best photography, and I could not be more pleased. I'm so glad I got to meet her, hug her, and learn from her in person.
* Google +: Learning to love it with James Dearsley.
I only got into Google + properly a few months ago, and have loved it ever since. I have devoured everything I can on it, and James brought a few new features to my attention that I can't wait to try out. He had a really popular session too.
* Podcasting: the hows, wheres and whys with the Love All Dads podcast.
I was really interested in going to this one as it's something I'm considering for the future (you heard it here first!), and it didn't disappoint. The guys actually podcasted their session with us (which means we'll be able to listen to it when it's released), showing us how they put a podcast together and opened the floor to questions. It was very interesting and a good laugh too.
They won award in the Bibs too (innovate). Well done lads!
*Pinterest: how to be a power pinner with Lizzie Gold from Pinterest
The three main things I got out of the Pinterest session with Lizzie was that…
1) 75% of pinning is done from mobiles so make sure that blogs are mobile responsive, and have images that come across well on mobiles. Check images on your own phone, and on someone else's.
2) Don't limit how many pins you put on a board. If someone only follows certain boards (which is very common), they won't know that you've started a new board on the same subject.
3) The real eye-opener for everyone in the room. Ready for it? Hashtags don't work on Pinterest! It uses organic text, so you're much better off using colourful, descriptive words instead so your pin turns up in lots of different searches.
*How to Instagram Better: Take gorgeous snaps, build followers, be part of the community with Marte Marie Forsberg. 
Marie has the most amazingly beautiful Instagram feed, and has been incredibly smart in using it to her advantage. She showed us how she creates the beautiful images we see in her feed, how she gains followers naturally, and  her long-term and short-term strategies for getting recognised by brands.
One of the things that struck me the most about her session was how well she knew herself. Everything she taught us pointed back to that one thing: know yourself inside and out. It was the theme of the conference really, but she personified it.  It made it much easier for me to approach her for a chat later, even though our styles are often polar opposites. I just had to talk to her since she's another Scandinavian expat in the UK.
***
The keynotes
I also loved the keynote speech from Benjamin Dutton-Brooks from Life As a Widower, which was incredibly inspiring, and probably had half the audience text home to say "We need to sort out life insurance pronto!".
***
The people
The very best part of it for me though was meeting so many wonderful bloggers. I have heard of a few people who had nasty comments from other bloggers, but I never heard or saw any of that. I saw a venue full of wonderful bloggers who were incredibly friendly and supportive, who chatted with everyone, whether they were big shots or newbies. And I made some wonderful new friends who I hope to get to know better as time goes on. I didn't take many pictures, but these are just a few of the people who now have a special place in my heart…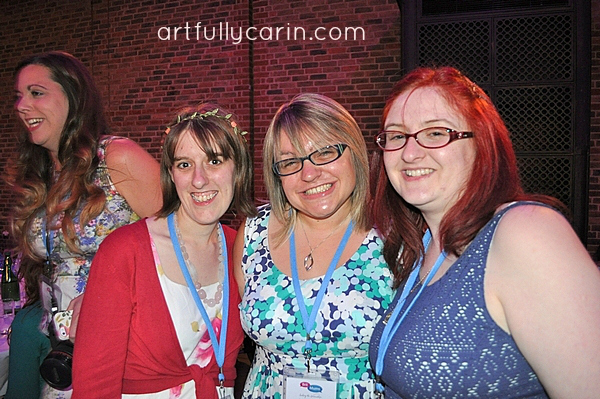 Amanda, Emma, and Katrina (with Lucy in the background)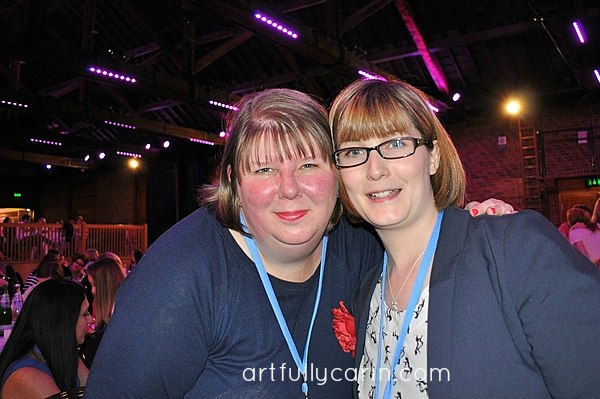 Me and Amy.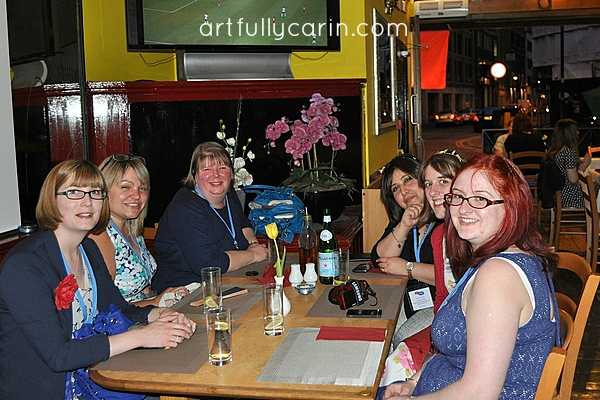 Out to dinner after the BiBs, with the wonderful Kanchan.
I thoroughly enjoyed it and will be back!
***
Linking up with Snowing Indoors point + shoot and the Britmums linky.