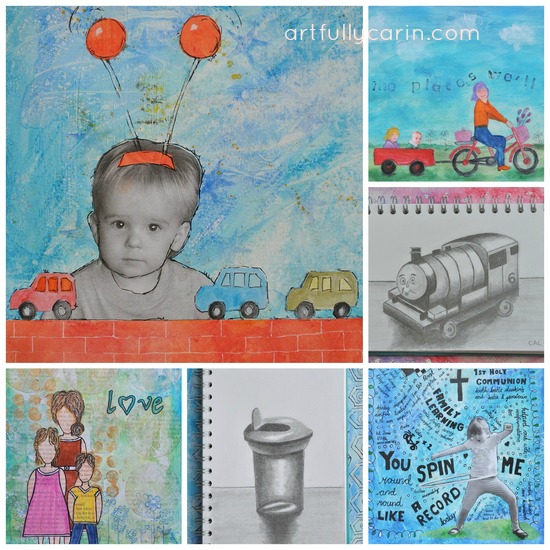 This is the second year I have made a creative achievement list, and I think it's fair to say I'll keep doing them every year as I really enjoy them. It's a wonderful way to reflect on the past year and remind yourself how far you've come. I also find them a great tool for bringing into focus what you want to do more of in the coming year.
Creative achievements 2013:
1. I chose "action" as my word of the year and began chipping away at my long-term dreams for my home, family and business. This year involved a lot of research and background work.
2. I made creative me time every day a priority, even if it only was for 5-10 minutes.
3. I kept up an almost daily creative journalling habit all year, which gave birth to a lot of new ideas.
4. I made monthly highlights art journal pages every month and began blogging them in May (I invite you to join me this year)
5. I also made monthly video collages of my family photos pretty much every month.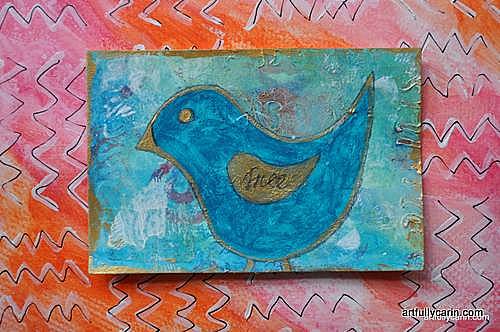 6. I took part in a postcard swap with Artists in Blogland. I made and received 3 postcards (the third was since found).
7. I interviewed 6 wonderful artist mamas for the Love that arty mama interview series (thanks ladies!)
8. I received a beautiful fabric mixed media postcard from Dale Anne Potter as a thank you for being the top commenter on her Facebook page one month.
9. I figured out what I really want to do on this blog and changed my tagline.
10. I chose to concentrate on improving my drawing for the year.
11. I made 10 pencil drawings in my sketching childhood series.
12. I set up the artful memory-keeping Facebook group (see you there?).
13. I began to share artful memory-keeping tips and tricks on the blog (with a whole lot more to come this year)
14. I named Robin Kalinich's painting "Geisha in hiding" and got some lovely goodies in the post soon afterwards, thank you very much!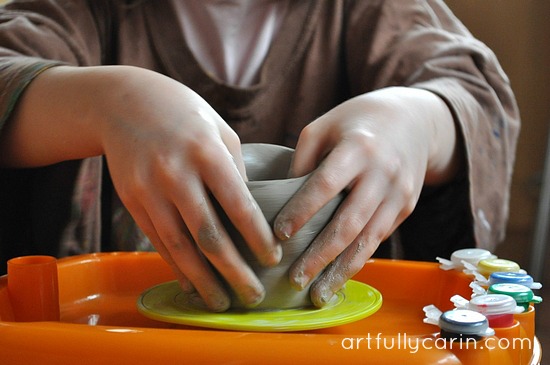 15. I did something creative with the kids every week during the school holidays, from baking to arting and crafting
16. I was interviewed by Heather Koshiol for her heart's path explorer series (thank you Heather!).
17. I added to the kids memory folders fortnightly (I'll make a post about them soon).
18. I joined a couple of cross-stitch groups on Facebook after one of the cross-stitches I've made over the years caused a bit of a stir on one of them.
19. As I result, I got all excited about cross-stitching again after a bit of a break from it and spent many a night stitching. I love it!
20. After a bit of soul searching, I set about redefining my style (a fun journey of discovery and rediscovery).
21. Inspired by Karen Walrond, I wrote a life list (so much more positive than calling it a bucket list!)
22. I grew into myself and listened to my heart
23. I celebrated the 1st anniversary of Artfully Carin.
24. I kept up my daily gratitude practice and feel it is vital to my continued well-being.
25. I wrote a creative 5 year plan (gulp!)
26. I made a Blurb book out of the first year of Artfully Carin
27. I drew up a plan for the back garden, which I hope to start working on this spring.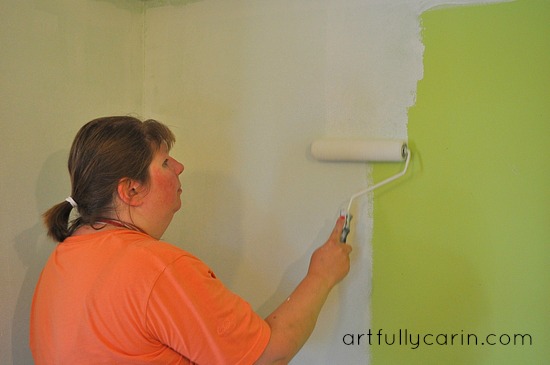 28. I also made some headway on redecorating the studio, even though I had very little time out there (I'm taking slow decorating to a whole new level!).
29. I kept up a regular bloggy/ creative email conversation with my friend Angie, that sparked many new ideas and kept me accountable whenever I was slacking.
30. I took a solo weekend trip to Sweden to see my mum.
31. We successfully potty trained Kirby
32. I helped the kids make a Halloween song to sing while they were trick or treating.
33. I helped the kids create a "50 things we love about you" book for Alan's 50th birthday.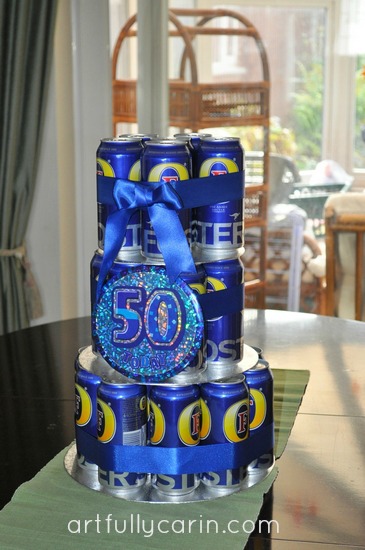 34. And I made him a (very popular, I must say) beer cake.
35. I interviewed Aoife for her 7th birthday
33. I changed my rubbish Android for a handed down iphone and explored a whole new world of creative apps.
36. I began writing an e-booklet to be released soon.
37. I did something creative with the kids pretty much every weekend during the school year.
38. I tried as much as possible to support artist I admire by talking about them and/ or buying a piece of their art
39. I began teaching Aoife Swedish again after she started showing an interest in it (she has refused to speak Swedish for several years)
40. As a result, I began a Swedish writing project purely for my own enjoyment
41. I showed Aoife how to keep a basic scrapbook/ journal and it is now one of her favourite things to do.
42. I did a lot of technical work behind the scenes of Artfully Carin.
43. I experimented a lot in the kitchen, trying to make tasty, natural low carb dishes in the slow-cooker
44. I took three e-courses.
45. I mind-mapped and planned my creative dreams and goals for 2014.
46. I made 5 ATCs
47. I made 4 paintings (some of which I have still to show)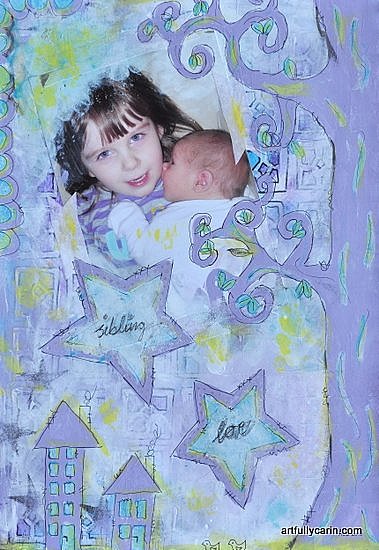 48. I made 22 art journal pages (not all were shown on the blog)
49. I read 25 books
50. I posted 175 photos to Instagram.
51. I wrote 47 blog posts
Thoughts: I'm pleased with what I accomplished in 2013. 2013 was not one of the easiest years to get things done in. Money was very tight,  time was limited since Kirby stopped napping at home (choosing to nap in the buggy during the afternoon school run instead), and my mood was very up and down.To begin with I was disappointed by the numbers in this post, especially since my word for the year was "action", but when I looked into it, I realised that although I had drawn and painted less than I would have liked, I had created under tougher circumstances and I had made more of what I really like (like the sketching childhood series). Numbers don't tell the whole story. Saying that, I can't wait to dig my teeth into 2014!
Previous creative achievement lists:
as much as possible to support artists I admire by talking about them and/or buying a piece of their art. – See more at: http://artfullycarin.com/celebrating-2012-creative-achievements/#sthash.KhGTgBa2.dpuf
as much as possible to support artists I admire by talking about them and/or buying a piece of their art. – See more at: http://artfullycarin.com/celebrating-2012-creative-achievements/#sthash.KhGTgBa2.dpuf