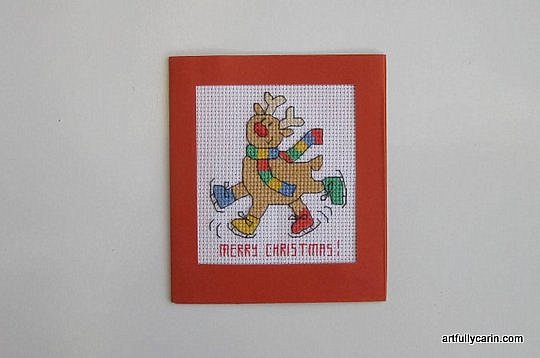 With Aoife back at preschool, the studio is once again a hive of activity. I have several projects in various stages of completion that I look forward to showing you over the next couple of weeks. The evenings are still reserved for cross-stitching though (when I can stay awake long enough!). Just like in the the studio, I have a few projects on the go which I can't wait to show you at a later stage. Last night I needed a break from the big cross-stitches though and picked up this sweet card kit instead. It came free with issue 74 (October/ November 2010) of Cross-Stitch Card Shop and was worked on 14 count Aida.
This cross-stitch actually made me a little nostalgic and teary-eyed (yes, I am hormonal!). The first few things I showed on this blog were freebie card kits like this one. So much has happened since then, my creativity has taken off in a whole new direction, yet it seems incredibly fitting that I end this first year of blogging in a similar way to how it started. It has shown me how far I've come in the last year. We all need those kind of reminders every now and again.
**********
The giveaway is still open if you've not entered yet. Closing date end of Friday, September 24th.