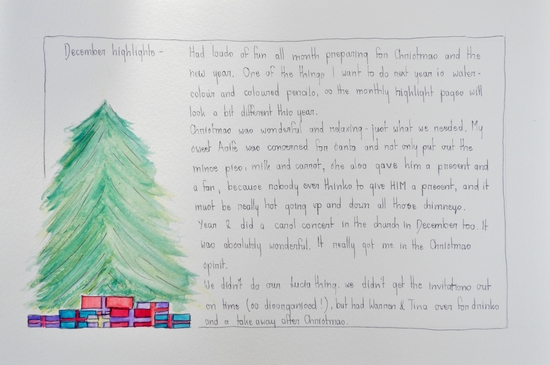 "Here", she said, "I'll help you". Aoife took the stocking from Kirby and kneeled down beside him so he could reach into it and grab whatever was there. He gave her a big smile.
The night before I had watched as they excitedly put out the plate for Santa- a mince pie and a glass of milk, plus a carrot for for Rudolph. But this time, there was also a note, a homemade fan, and a small, wrapped gift for the big man…because "it must be really hot work going up and down all those chimneys all night, and nobody ever thinks to give HIM a present".
***
I'm also very happy to announce that starting next month, on Thursday February 6 and every first Thursday of the month after that, you'll also be able to link up your own monthly highlights art journal pages with me each month. It's open to every medium. You'll find the link party guidelines in the menu at the top of the blog whenever you need them. I'm still trying to catch up after the PC crashed, so the button will be another few days.