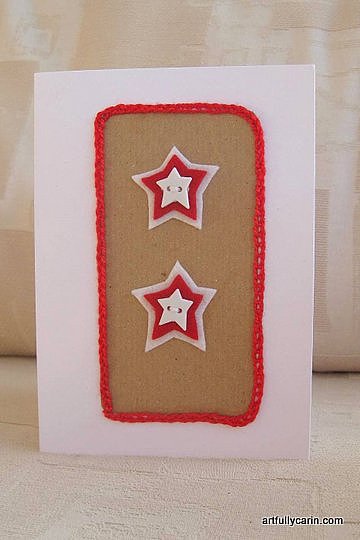 It's that time of the year again when I pull out the warm, fussy felt and play.
I promised myself I wouldn't make any Christmas cards this year, but since this felt star card (and its many sisters) started its life as a mistake made good, I think I'm excused. I was making some Scandinavian style tree decorations, but accidentally made them way too small. I didn't want to waste them, so I turned them into card toppers instead. I think it works.
To make the cards, I mounted the star toppers on scrap pieces of brown paper I had already glued to some cards for another project. I then made a simple chain stitch border to go around the brown paper rectangle. Voila- card done!
But, having held the crochet hook again after such a long time, I'm now itching to start crocheting again…
For more easy Christmas craft ideas,  check out my archives.