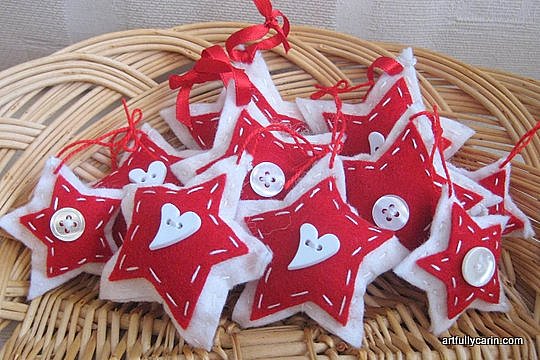 I loved making the felt heart tree decorations last year, they added the Scandinavian touch I was after and looked really cute on the tree to boot, so this year I decided to make some felt star ornaments in the same style. Nothing says Scandinavian Christmas to me like hearts and stars. And despite my initial mistake, I enjoyed making these just as much.
Materials needed:
* Two pieces of felt in different colours (for traditional Swedish Christmas ornaments use red and white)
* Stuffing
* Embroidery floss
* Cute buttons
* Sewing needles
* Ribbon or yarn
* Knitting needle or skewer
Instructions:
1. Cut out two large star shapes in one of the colours, then two slightly smaller ones in the other colour.
2. Add the buttons to the centre of the small stars.
3. Sew the smaller stars onto the larger ones using straight stitch.
4.  Put the two large stars together, right sides out, and begin stitching together using straight stitch. Leave a small hole at the top for stuffing.
5. Stuff the ornament as tightly as you can, using the skewer or knitting needle to make the stuffing go all the way out into the tips of the star.
6. Finish stitching up.
7. Thread the ribbon through one of the tips of the star. Work out how long you want the loop to be, then make a tight bow.
8. Hang and enjoy!
I can't wait to see our tree develop over the years as we add more handmade decorations. I think it is one of the nicest traditions we are embracing as our family grows.
For more easy Christmas craft ideas,  check out my archives.