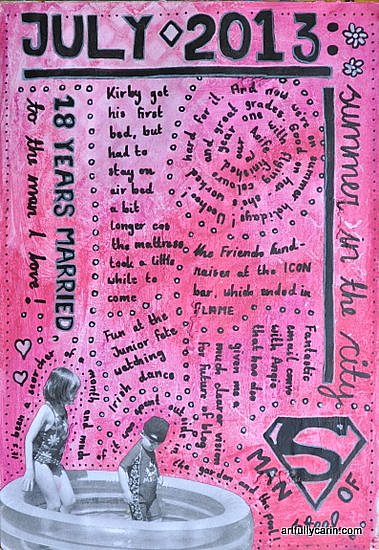 These highlight pages have quickly become some of my art journal favourites. I love being able to see at a glance what we have been up to during a particular month. I make them as simple as possible on purpose so that I am more inclined to make them, and let the words and doodles provide most of the interest.
After what seemed the longest winter on record, summer finally hit with a vengeance last month. Aoife didn't finish school till the middle of the month, but every spare moment was spent in the paddling pool in the garden.
Alan and I celebrated our 18th wedding anniversary. We managed to score a babysitter and went out for a meal and a movie.
Right at the end, I also managed to make a start on the walls of the studio. I haven't been back in since, but every little bit helps.
July, 2013 from Carin Cullen on Vimeo.
(Ignore all the weeds please!)
The July highlights art journal page was made mixing 2 water soluble crayons on a stitched background (the stitches carry over from Aoife's "6" page), which were then textured with cling film and gesso through a stencil. I added a photo of the kids playing in the paddling pool, then wrote and doodled the highlights from our month all over the page with black and white pens.