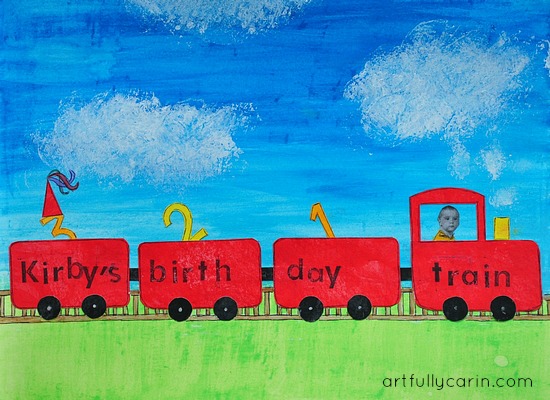 Three years ago today, at 10.45 am (the very time I post this), our boy wonder Kirby was born. In the three years since, he's gone from being a Velcro baby who would only sleep in my arms for the first ten weeks of his life, to a confident, cheeky little boy who loves vehicles, pirates and mash. This is his first proper birthday interview:
Favourite colour: I like red
Favourite book: Spot! ("Where's Spot?" is his current favourite)
Favourite toy: I like Eeyore, and the steering wheel, and the fire engine… nee naw , nee naw!
Favourite game: hide-and-seek
Favourite song: row row
Favourite TV show: "Peter Rabbit" and "Topsy and Tim"
Favourite animal: tiger… ROAR!!!!
Favourite friends: Aoife
Favourite food: mash, meatballs, Weetabix
Favourite fruit: bananas
Favourite drink: milk
***
Kirby's birthday train is mixed media on watercolour paper, using water-soluble crayons, scrap papers, gesso, pen, and a personal photo.