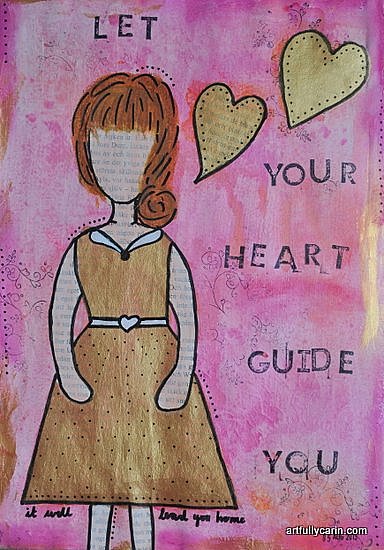 Let your heart guide you. It will lead you home.
I've been feeling restless lately, which usually means big changes are happening. I feel them in my body long before I can put them into words or action.
I'm always impressed with how the body knows what's best for me, even when I push and pull against it.
I'd like to think I've always been pretty good at listening my heart, but it takes such an enormous sense of trust that I have often fallen short. Thankfully I've gotten better at filtering out the voices of the crowd as I've gotten older.
I sit here, on the eve of Artfully Carin's first anniversary, and try to make sense of the last year. Tomorrow my blog baby will be one and words fail me. I write and delete, write and delete. Everything sounds so trite. So excuse me if this is a bit choppy.
The last year has been amazing.
This was a time I really listened to my heart. After blogging for several years, I feel like I'm finally home. Like I have found my rightful place in the blogosphere. And I'm so grateful for all of you who have followed along, given support and advice, and generally cheered me on.
Thank you!
***
The "Let you heart guide you" art journal page was made using several layers of ink sprays with mica, book pages, acrylics, water soluble crayons, gesso and pen.