Welcome back to the love that arty mama interview series! And thank you so much for your wonderful comments on Marcia's post!
Today I'm interviewing the wonderful Lise Meijer from Denmark. I found Lise when Kelly Rae Roberts posted a  tribute video of hers on her blog and have been an avid fan ever since. I think you'll agree that her artwork is stunning!
Take it away Lise…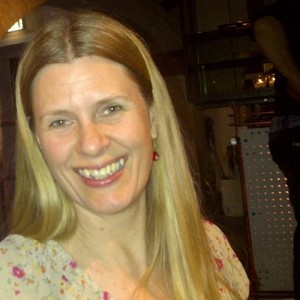 * Please tell us a little bit about yourself and the type of art you make.
I am a mixed media artist, and I mostly use acrylic and papers on canvas, sometimes mixed with buttons, laces etc. I am also a storyteller, a singer-songwriter, a dancer, a teacher and a firm believer in sharing and nurturing the good things in this world….
In spite of what many people think; I am in many ways a quiet and private person. Happy in social dealings, but what I love most is to sit alone and create, for many uninterrupted hours if possible.
I am also one of those multitalented people who have had a very hard time choosing one creative outlet and giving it a direction in life. Combine this with being a mother for 2 (Celeste, 9 and Vincent, 6), and you have a possible pent-up, creatively unfulfilled person and a grumpy mother.
For some strange reason is was only after I had children that I understood that a truly creative work-life would never be an option unless I learned how to figure out what I wanted. And that I would have to dedicate many small steps to acting on those dreams, whilst learning to be a mother. I saw the unhappiness straight in the eye, and I began to take charge, one small step at a time. That was when our youngest was about a year, now 6 years ago.
That decision lead me to teaching creativity courses for adults, and eventually finding the way back to my first love: painting. I have now been painting again for about 2 years, and it is such a joy.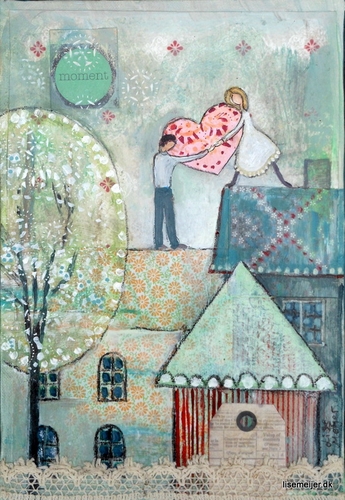 * Roughly how often do you make art? Roughly how many hours per day or week?
About once a week, sometimes more when I am inspired about a painting and can find the energy and time to include some evenings. About 6 hours per week.
* Do you keep regular working (art) hours, or do you fit art in whenever?
I keep a very steady creating-schedule. Those 2 last years I have been able to dedicate one 6 hour-day per week to painting. Besides being an artist and a mother, I have different teaching jobs taking up 3 days a week, and when I can, I use the last week day to handle admin, PR, marketing ect. for my own little company.
* Do you plan/ schedule your art time in advance?
Yes, I do. The same weekday every week is scheduled for making art. I try to keep it "sacred", non-negotiable with no phone calls, and no other obligations. Only ill children or fires get a higher priority! I have an arrangement that a neighbour family picks up the children from school that day, and I return the favor another day. That gives me one extra hour for making art, very precious time.
* Do you have any rituals that take you from Lise the mum to Lise the artist?
Absolutely, rituals are essential for me in getting ready, shifting and inviting inspiration. I do at least one, often two and sometimes all of the following 3 rituals in the morning:
I write!!! I write "morningpages", as described in Julia Cameron´s book "Creativity".  Morningpages are essential to me in getting into a creative process. I can highly recommend using that tool.
I make a very small and quick page, a "Creative quickie" in a journal assigned for that, using cut-outs from magazines and a few words. Max. 10 min´s. Gives me an instant feeling that I have already been creative, taking away any pressure.
I dance 5-10 minutes to music. Works brilliant to get the body moving and the creative juices flowing.
I also practice doing a very simple, yet sometimes  very hard thing: I simply show up, take out the paint and the canvas, and begin. I may feel happy, I may feel horrible. But I am there. And that always seems to work, like luring a child into playing by sitting down with it, and simply beginning putting the blocks on top of each other. Soon they play along, and so does creativity, even on a "bad" day!
* How has having children affected your work (working process, subjects, etc)? And how has art affected your mothering?
Like I told, I only began creating/ pursuing a truly creative work-life after having children. Having no time for me made me very unhappy. I think I got so scared by the image of me as a worn-out mother, unable to pursue her own dreams, so I simply had to begin that journey, at first with very small steps.
* Does your family get involved in your art making?
My family is my greatest cheering crowd. They are so supportive and sweet, they come along to gallery openings and my husband has helped me putting hooks or frames on many paintings. And the children are very interested whenever I am working on a new painting. I made painting sessions with my daughter and some friends, and she has been in some of my workshops. But I never paint my own art alongside with my family. I need to be alone, fully concentrated. Otherwise I become a grumpy, yelling drama-queen, and that is not fair to either of us, so I avoid that. And respect my own boundaries.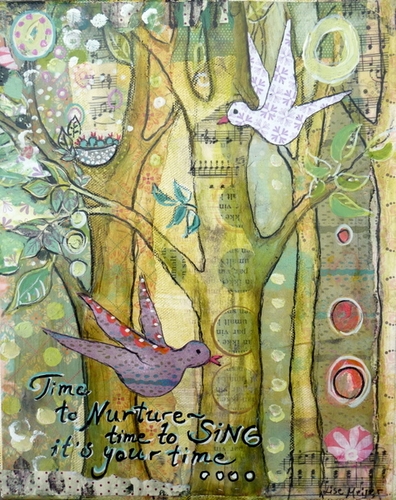 * As an artist mama, what do you consider your greatest challenges, and how do you overcome them?
That must be not being solely in charge of my own time….and the worst: ill children on painting-day. I want to be there for them and at the same time my artist heart is crying because that means me postponing creating for another week, or two, or even longer sometimes. That is so hard!
* Do you sell or teach your art, locally or online?
Yes, I sell my art in galleries or by direct contact via my homepage. I happily ship paintings internationally. My cards and posters can be bought in my webshop and in some shops in Denmark and Holland.
I have just begun teaching mixed media workshops locally, and I truly enjoy it.
* What tools (for example… blog? instagram? twitter? art fairs? gallery shows? etsy? facebook? word of mouth?) have you found the most helpful to get your art known?
For me, following my own funny passion has been the most effective. More than any tool. As I told you, I also sing and write songs. About two years ago I first saw the art of Kelly Rae Roberts, and it instantly inspired me to begin painting again, after more than 15 years. Not knowing much about her, I was simply so moved and wrote her a song. Kelly Rae later shared that song on her extremely popular blog, and that lead to my first international sale.
Another time I was moved by an essay of a wonderful danish author, Majbritte Ulrikkeholm – and wrote her a small letter. She then visited my homepage, became a fan of my art and has generously shared it with her fans on FB, creating new openings for me here locally.
I am very humbled and thankful for those and many other magical incidences. It counts for them all that things opened when I was following my own true north, doing my bit and trusting the process rather than trying to calculate it. If it comes to tools, Facebook has been one of the quickest ways for me in connecting with people interested in my art. Blog/homepage has been essential too.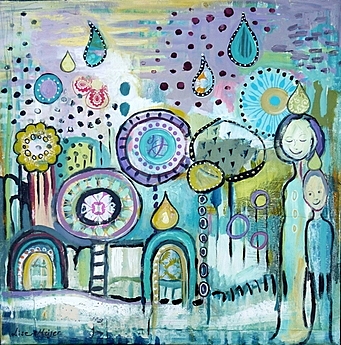 * Where can people find you?
Thank you Carin, for this wonderful opportunity!
******
Thank you so much to Lise for doing this love that arty mama interview! All pictures above are copyright Lise Meijer and were posted with permission. Who's next? Come back  Thursday to find out! As always, all interviews can be found under the love that arty mama tag or by clicking the button below.