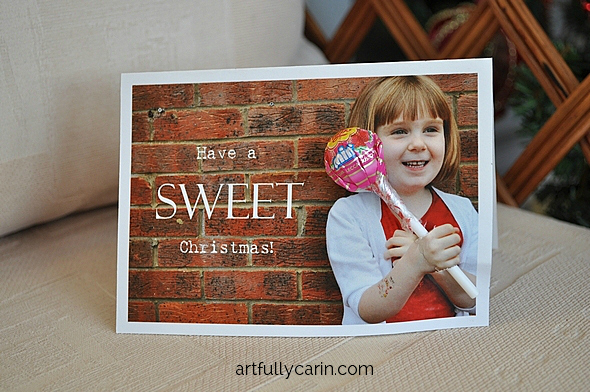 So a couple of weeks ago I asked my more experienced school mum friends on Facebook if they tip the lollipop lady/man (school crossing guard) at Christmas.
They didn't really know, most drive to school, but a relative joked I should give him/ her a card and a lollipop.
That's when I remembered this lollipop card. We don't really do Valentines, but I thought this was such a sweet idea (excuse the pun) that I stored it away for a later day. This was it.
So at the weekend, I dragged Aoife out in the cold to get a nice picture against our brick wall with her hand stretched out and making a fist, then edited the photo and added text in Picasa. I printed the photo on card on the 13 x 18 photo setting, so that I could just fold it in half to make a Christmas card.  Once printed and folded, it was easy to make a couple of slits on either side of the hand and thread the lollipop through. Next time I'll try harder to find a flat lollipop though!
Such a quick and easy craft, yet so fun. I like it!
For more easy Christmas craft ideas,  check out my archives.