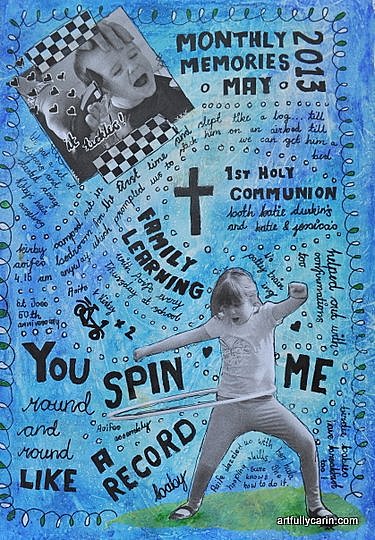 I art journal for a number of reasons, but one of the main ones (yet probably the least shown here) is simply to remember normal details from our lives…while they still seem normal.
I tried calendar journaling as a way to document the everyday a couple of years ago. It seemed the easiest way to do art journaling with a newborn since it only requires one spread per month and a tiny bit of journaling each day. And even though I love having that record of the early days with Kirby, calendar journaling isn't for me. This, on the other hand, is; a quick page or two showing the highlights of the month.
I kept the background as simple as possible to let the words and images speak for themselves. I used an old background where I had already put down water soluble crayons and cling film over rough image transfers (one of my favourite techniques) as my base, and took it from there. The rest is pretty much just writing and doodles.