Hi lovely, I'm starting a monthly highlights art journal link party today, giving us a chance to reflect on and celebrate the goodness in our lives, so please stick around to the end of the post for more details on how to link up. If you're new to art journalling, there's also a tutorial on how to create an art journal page using things you probably already own. No fancy art materials needed!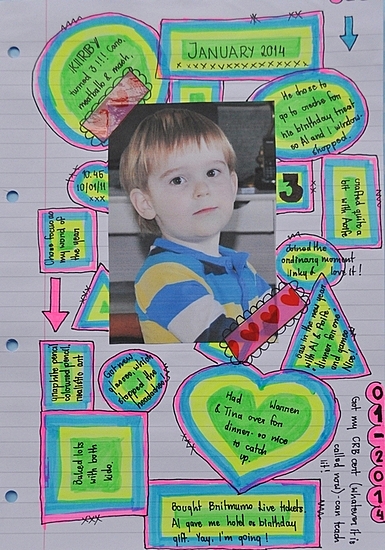 January was quiet, but good.
I feel kind of sorry for Kirby. By the time his birthday rolls around on January 10, we're all partied out. November and December are full on with Alan and Aoife's birthdays, our Lucia celebrations (which have changed a little since I wrote that post), Christmas and more besides. So so far his birthdays have been very quiet affairs- family only, his favourite dinner, and a treat of some sort. He chose to go to the shoppers crèche at the mall as his treat this year. He loves going there.
I'm on it for next year though, planning a transportation themed party. I don't think we need to worry he'll grow out of his car, plane and train obsession by then.
I also got my ticket for Britmums Live, which is very exciting. I haven't been to a blog conference before. It's my birthday that week, so I'm sure I'll find a way to celebrate while I'm there.
These are some of my favourite moments from January:
 ***
Now it's over to you!
Please join up your monthly highlights page using the link up tool below, then go show some comment love to some of the other people on the list. You can link up any time this month, until about 5 minutes before the next one goes live (6 pm GMT the first Thursday of every month). Also, if you like this idea, please spread the word.  The more, the merrier!
If you're new to art journalling and hesitant to link up, please let me show you how easy it is to make an art journal page using things you probably already own.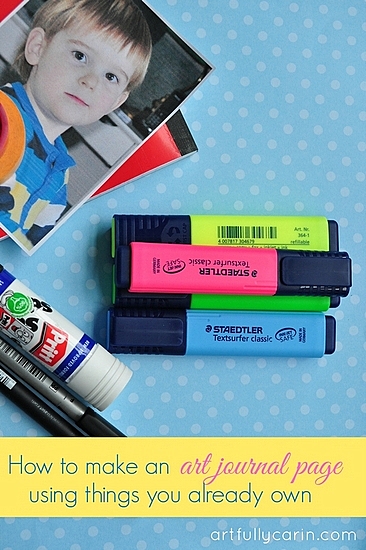 ***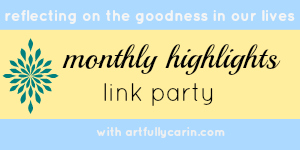 [inlinkz_linkup id=370046]