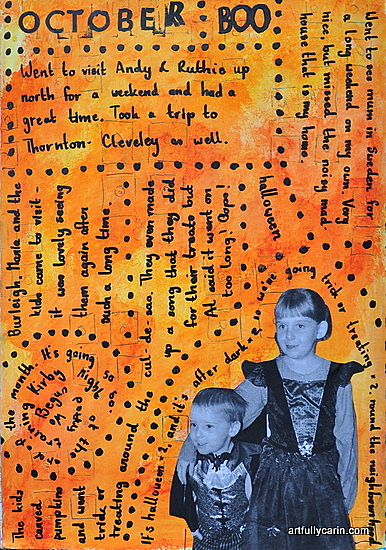 Walking to school the first morning back after the half term holidays, Aoife asked "Mummy, what should I write if Mrs C asks us to write about our holidays? We didn't go anywhere."
"Just write the truth, hun. We stayed home all week because we were potty training Kirby, but we did lots of arting together, we carved pumpkins, you played with the girls down the road, you went to a birthday party and you went trick or treating."
"Oh yeah. I guess I did quite a bit at home too."
I nodded, and quietly told myself to remember that when I sat down to write about my own month.
After the hustle and bustle of summer, the quietness of October is always a bit of a shock to the system.  Long days outside are replaced with crafting and reading indoors. And the camera hardly gets used as days get shorter and greyer.
But as Octobers go, this was a good one. We struck a nice balance between being out and about and being at home as we begun adjusting to the darker months. It was very much about connecting with family and friends. I went on a solo weekend trip to Sweden to see my mum (and didn't even bring my camera!), all four of us went to see some friends up north for a weekend, and we met up with some other friends we haven't seen in several years at our house. And I loved having Aoife at home for the school holidays.
If the video doesn't show, you can view it on YouTube here.