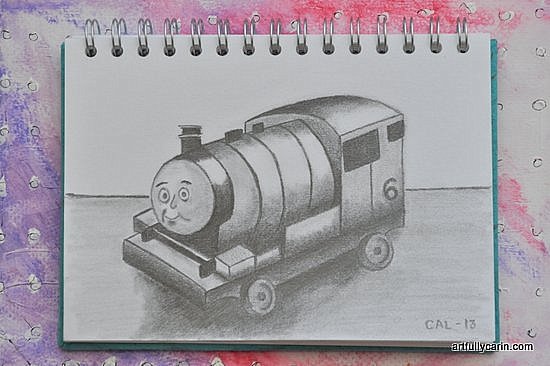 The other day, I noticed Kirby was settling down for a snooze on the sofa, so I  took out my sketchbook and pencils and set up at the dining table. I outlined his Percy train
 and began working on making him come to life.
Then I made the mistake of leaving the room to make a cup of tea.
When I came back Kirby was kneeling on the chair I had left a few minutes earlier, scribbling furiously and heavy-handedly all over the drawing I had just started. When he saw me, he proudly exclaimed: "Look mummy, Eebie (Kirby) drawing too! Is lovely!"
Funny how that boy, who never shows any real interest in drawing, always chooses to show his arty side when and where I don't really want him to. Like on my drawing, all over the nice, white computer desk, or on our livingroom walls.
But it has made me think that I probably should encourage him to play with art materials more often.
Generally speaking, I think that we, as a family, lead a pretty creative life. And that is very important to me. But since Kirby is not as interested in drawing, painting and crafting as Aoife was at that age, he and I don't sit down and do those sort of things together very often. But he obviously has SOME interest in them, and we think they should be encouraged. So Aoife and I have hatched a little plan. We are going to try to take some time out most Saturday afternoons during the autumn and winter months to art, bake, and craft with him.
I'm really excited. I can't wait to see what happens.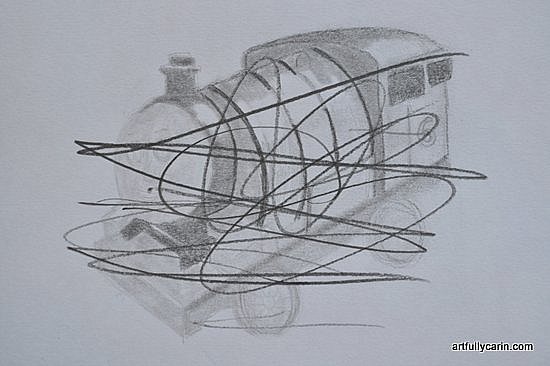 Kirby's rather wonderful version of Percy the train