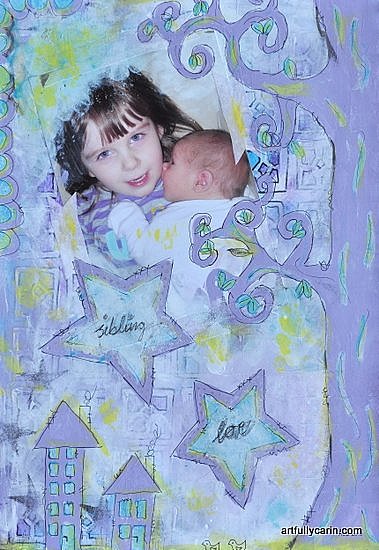 Grabbing the opportunity as it presented itself, I decided to deep clean the kitchen while the kids played in the livingroom. Grateful for a few minutes to myself, I dipped my hands deep in the hot, sudsy water, squeezed out the sponge and begun to methodically clean the surfaces. But I was soon stopped in my tracks by the sound of their laughter coming from the other room.
Forgetting the sponge in my hand, I spilled water all over the floor as I snuck over to the door, where I leaned on the door post while I strained to hear what made them laugh so hard. I had no hope. They were lost in sibling world, where only they have access. It's full of in jokes I'm not a part of.
As I write this, summer holidays are beginning to wind down. Aoife has just over 2 weeks left. In between play dates and outings, I have begun preparing for autumn and back to school. But when I think back on this summer, it will be remembered by their laughter.
Their laughter has filled the house.
It's the first year Kirby is actively playing along with Aoife's imaginary games and making up games of his own. And they're having a blast. Kirby will miss Aoife terribly when she goes back to school.
I love that they have such a close bond, that they enjoy each other's company, and seek each other out to play.
As their mother, I sometimes allow myself to daydream about their future. But I don't daydream about what work they will  do, or what hobbies they'll pursue. In my dream they continue to grow closer as they grow older. They continue to enjoy each other's company, they continue to seek each other out, and they stand by each other through thick and thin. Arguments will be over as quickly as they begin. Their spouses will like each other and enjoy spending time together, and their children will play together happily.
I can only dream.  And pray. And hope for the best.
***
This page was made using a combination of water soluble crayons, acrylics, gesso, pen, fabric tape and a personal photograph of the kids from when Kirby was a few days old that I altered slightly.