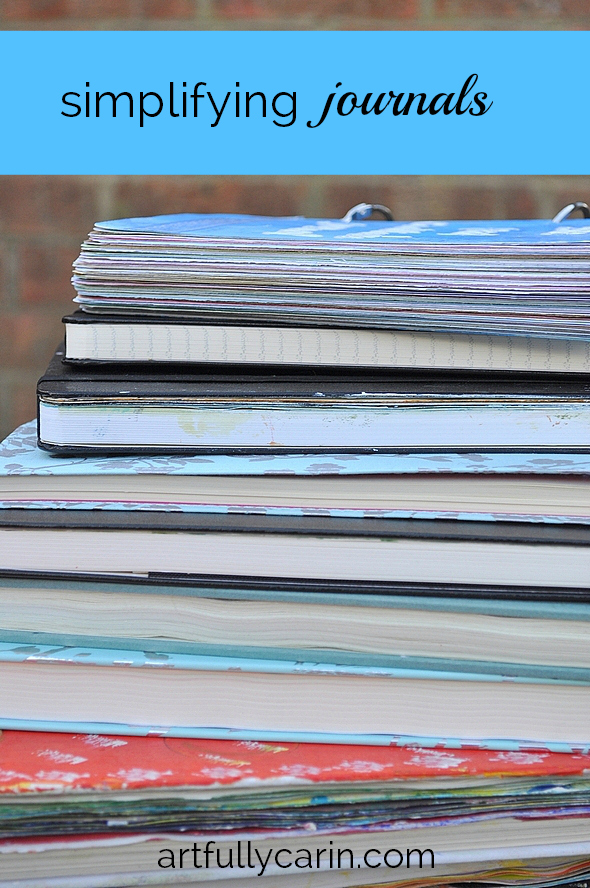 If you've been around a while you know I love to clean and organize and that I have been on this major simplifying ride for the past few years.
So this morning I was thinking about how to simplify the craft room when I do it up. And that's when it hit me.
I need to simplify my journals!
Please tell me I'm not the only one who has tens (or more) half-filled journals lying around. There's the gratittude journal, the spirit journal, the big acrylics journal, the small acrylics journal, the quotes journal, the doodling journal, the water colour journal, the experimental journal, the gardening journal…
Don't get me wrong. I think it's good to have more than one journal on the go, you kind of need a back up to scrape excess paint into, right, but that many?!?! How many journals does one woman need?!?! (don't answer that!)
No wonder I can't find anything in the craft room!
So to cut a long story short, I decided I'm going to try to simplify my journals.
Looking through all my visual journals I was kind of sad they were all split up. I like having things in chronological order (ish), and felt like I couldn't follow my own progression well enough. So I'm going to finish the ones I have one at a time before starting a new one, and try to get things into some semblance of order. It will be fun having a variety of styles in the same book.
I'm keeping the gratitude journal as is. I love that.
Inspired by this post by Jen, I'm going to amalgamate a lot of the other stuff into one journal, what I now call the everything journal. I'm letting go of the idea that written journaling has to be in a diary type format. So this is where I'll stick quotes, ideas, lists, ticket stubs, gardening ideas, etc.
Such a simple thought, yet It feels like a great weight has been lifted off my shoulders!
Ahhh!