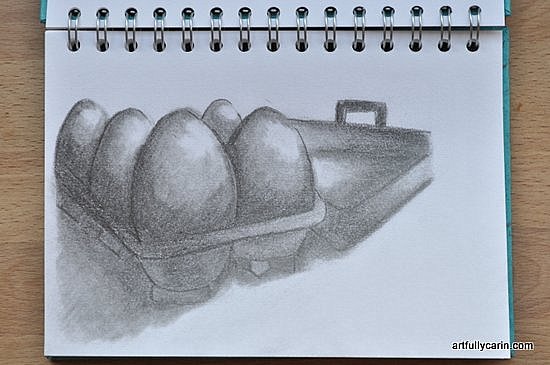 The house is quiet. Aoife is away on a sleep over, and Kirby has a tummy bug that makes him a bit quieter and clingier than normal. These hide n squeak eggs
by Tomy have provided most of the fun for both of us yesterday and today. He plays by my feet and I draw.
Sometimes the kids are given a toy that I don't quite see the point of, but it turns into one of their favourites. And when I see them playing with it, I realise just how good it is and feel silly for ever doubting it. This is one of those. Both kids love it. Not only do the eggs make funny squeaking noises, they can use them to match colours, shapes  and facial expressions. And when they're done playing with it like that, they close it up and use it for playing shops, farms and lots of other things. They get so much use out of it.
Drawing this, I started thinking that I really need to start practise using coloured pencils. They are not my strong point and I tend to avoid them rather than practise with them, but some of the drawings in this series would really benefit from colour. I have been dreaming of doing water colours a lot lately too, so there are definitely changes happening around here.