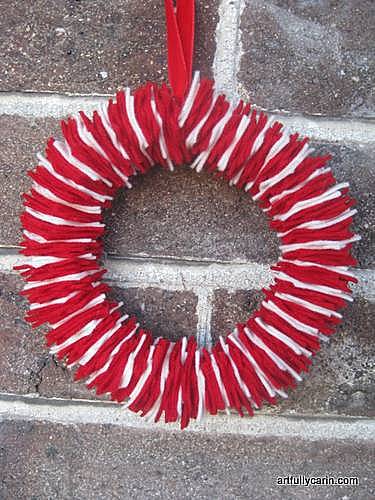 As my love of felt continues and grows, I suppose it was only a matter of time before I made a wreath. I have been drooling over them on Flickr for months. I had hoped to make one out of felted jumpers, but have not found many wool jumpers in the charity shops (thrift shops) this year. So this mini one was made using 100% wool felt. So quick and easy to do- I loved it!
How to make a small felt Christmas wreath
Supplies:
* small felt squares in two or more colours
* stiff, but bendable, wire the size of your wreath, plus a little extra.
* skewer
* ribbon
* a good dose of patience!
Instructions:
1. Decide on the pattern you'd like, and separate the two colours into piles (I used four red, two white)
2.  Make a hole through the centre of the first square with the skewer, then thread onto the wire.
3. Continue with the rest of the squares, following the pattern you decided on earlier on, gently forming the circle shape as you go.
4.Pack down tightly and add a few more.
5. When you reach the end of the wire, wrap the ends around each other tightly.
6. Carefully bring the last few squares over the tied ends of wire, then "fluff" the rest of the squares to make the wreath look even.
7. Turn the wreath over and thread the ribbon through a couple of squares on the other side. Tie, using a tight bow.
8. There you have it- a small felt Christmas wreath!  Hang and enjoy!
For more easy Christmas craft ideas,  check out my archives.