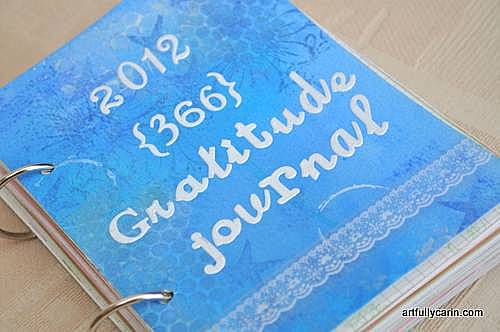 When I decided on "gratitude" as my word of the year, I realised I also needed a gratitude journal. But none of of the journals I found in the shops or online felt quite right. I wanted one that had enough pages for the whole year, and that I could easily add bits to without it falling apart on me. So I decided to make my own.
The journal measures 13 x 18 cm. To make the cover, I painted a large sheet of watercolour paper using water soluble crayons, then layered with stamps and splats until I was happy with the look of it. I didn't want it to be too grungy or overpowering. I cut out two pieces to the size I wanted, hole-punched them, rounded the corners, added lettering and a band of lace tape and called it done.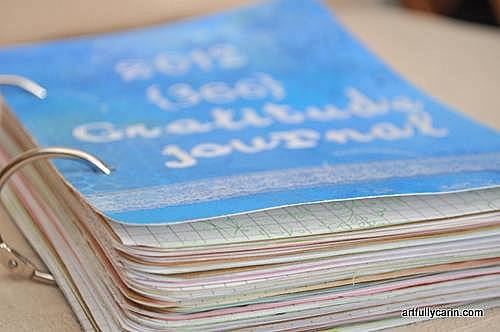 For the inside, I chose mostly plain, lightweight papers in a range of colours so I can journal, stamp, doodle and embellish to my heart's content. I rounded the corners and hole-punched the pages too. And I made sure to get large (32 mm) binding rings so it can comfortably grow a little.
I love it! It works really well for me so far. And I love actively looking out for things I'm grateful for each day and writing them down. Long may it continue!