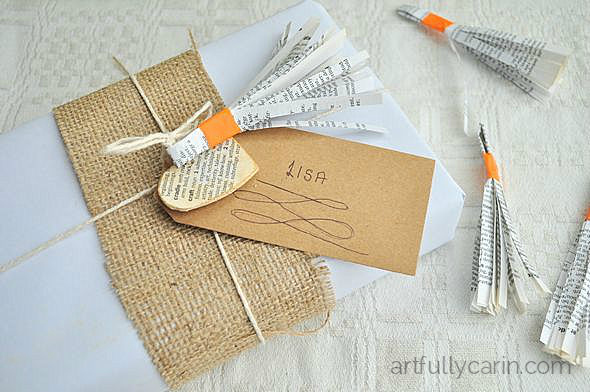 I'm taking a break from Halloween crafts today to share a super easy tassel tutorial instead.
I shared these tassels on Guidecentral a while back, but not here. I'm kind of kicking myself I didn't because they're now one of favourite ways to embellish gifts. They're so easy to make and look really pretty, especially when layered with other charms. So when I made a new batch yesterday, I took some photos of the process. Here's how you can make make them too (please tag them with #artfullycarin if you do or let me know so I can share your lovely makes, I'm @artfullycarin everywhere)
Supplies: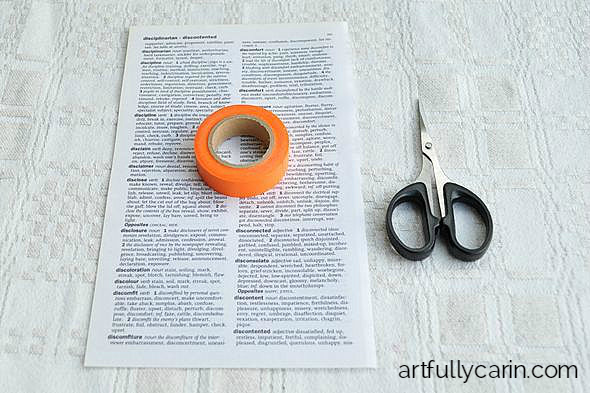 * old book pages (I usually get a bunch of unloved books from charity shops)
* scissors
* washi tape in your choice of colours
That's it! That's all you need!
Instructions:
1. Fold your page over lengthwise (from top to bottom).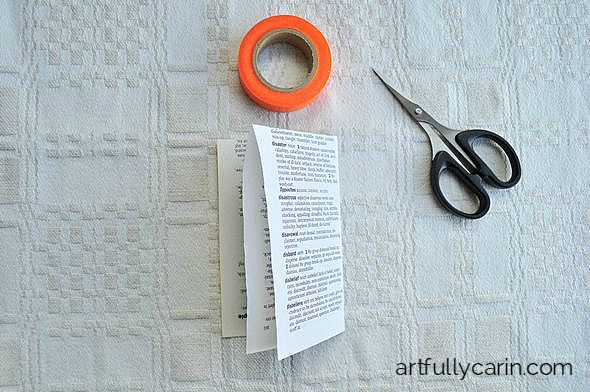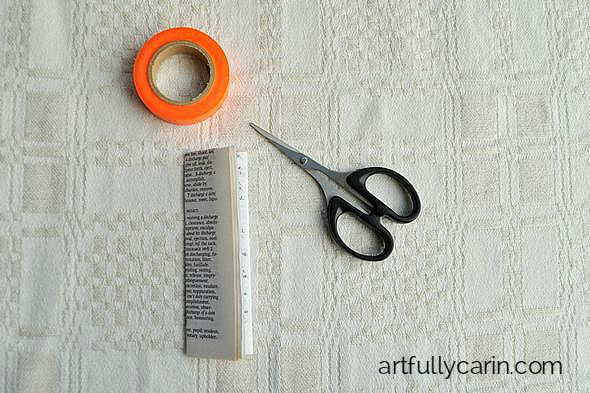 2. Fold your page over from side to side, twice.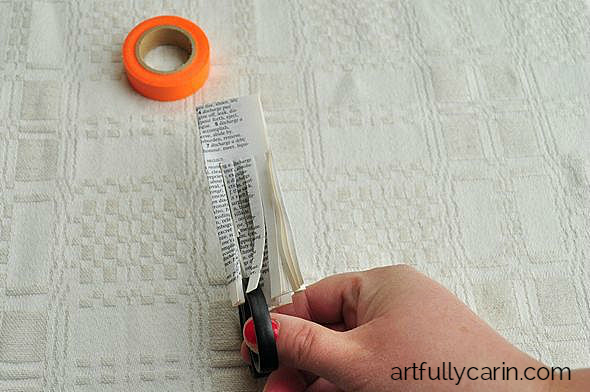 3. Cut several thin slits in the folded book page, starting at the bottom and ending about 4.5 cm (2″) from the top.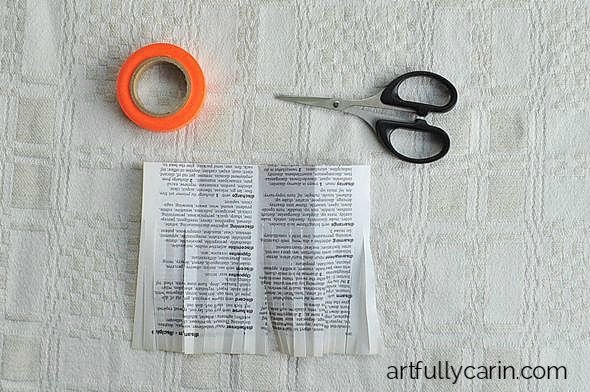 4. Open up the first two folds. Find the centre fold line and cut all the way to the top following that line. You now have two pieces.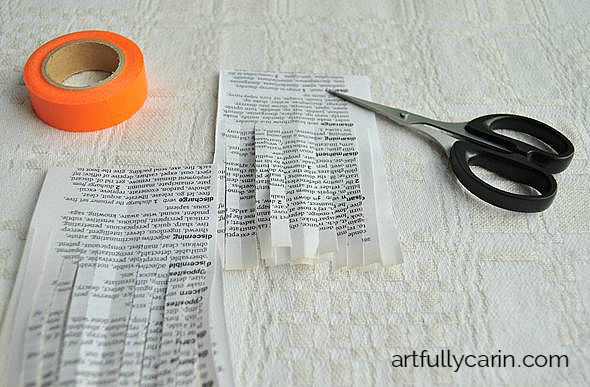 5. Find the centre fold line in each of those two pieces and cut from the bottom to about 4.5 cm (2″) from the top (the same as the cuts).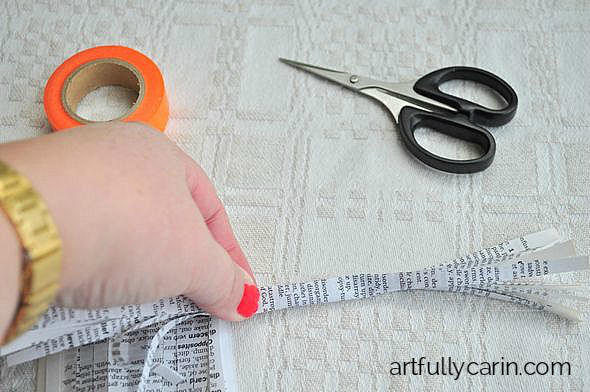 6. Open up the two pieces.Turn the page so the long side faces you. Fold the central bit over slightly and keep folding the page away from you until you reach the other side, making sure the cut strips don't get tangled up as you fold.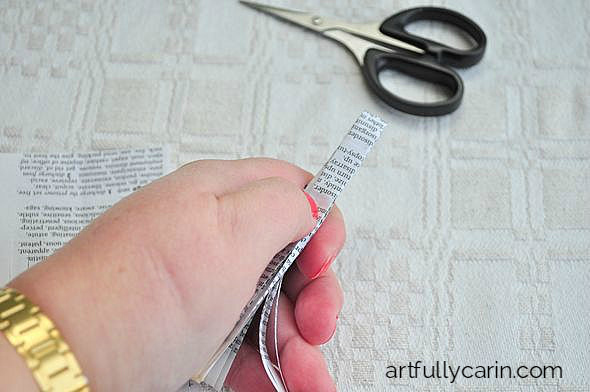 7. Fold the page in half lengthwise. Cut a strip of decorative tape and wrap around the folded area, about 1 cm (1/2″) away from the top. And you're finished!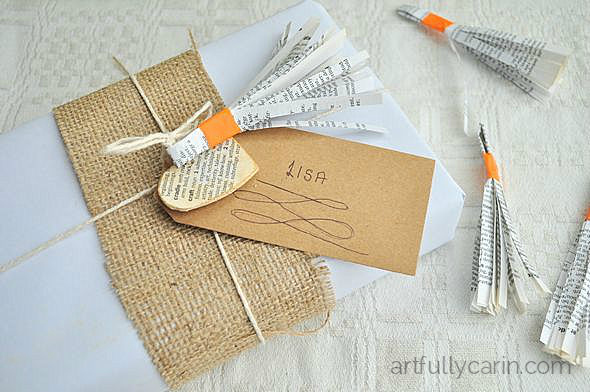 8. Now you can string ribbon through the hole and use in your gift wrapping, or string loads of them on a ribbon and turn them into a garland.
I like to use mine on gifts. I love the layered look, and usually wrap my presents in easel paper
(nice, cheap and always to hand around here), then put a strip of hessian around it, that I secure with double sided tape on the underside, then attach three charms and labels with parcel string. Because as much as I love giving and receiving beautifully wrapped presents I don't want to spend a fortune on doing it. The gift itself is more important.  Still looks pretty though, right?!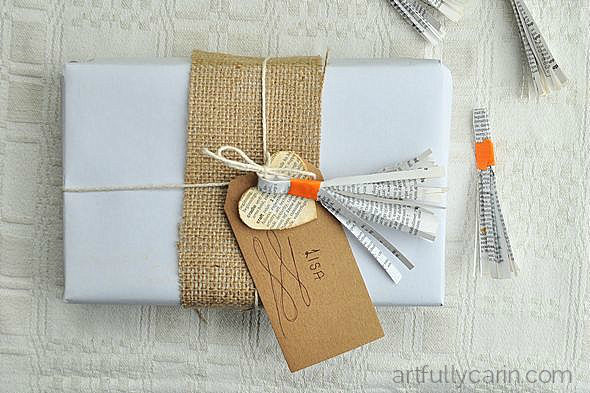 Now off you go and have fun with book pages! Have fun!
And if you want others to have fun making these as well, please share! Thank you!