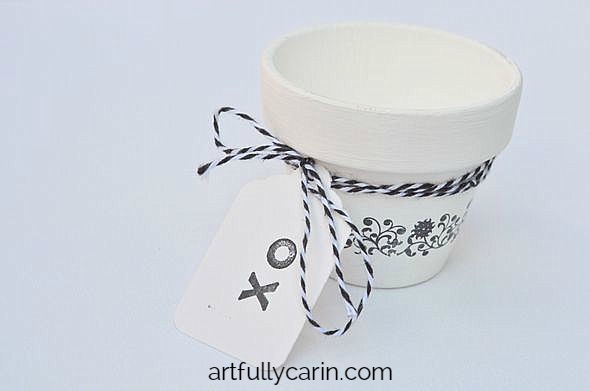 Hey lovelies,
It's been a while. How are you? Summer treating you okay?
I don't know about you, but we socialise a lot in the summer. If we head over to one of our friends' houses, I usually want to bring a little something extra, not just a bottle of wine.
A while back I got a 10-pack of small terracotta pots. I had planned to use them to hold teachers' gifts at the end of the school year, but I ran out of time. So I have been using them to hold small token hostess gifts instead. They're perfect for that since they're easily customisable for both the person and the occasion. Add some red string and sentiments and they can be used for Valentines or Christmas, add dates and monograms using fancy fonts and they're suitable for anniversary dinners. Then fill them with small gifts to show your appreciation.
If you'd like to make your own, here's how.
Materials: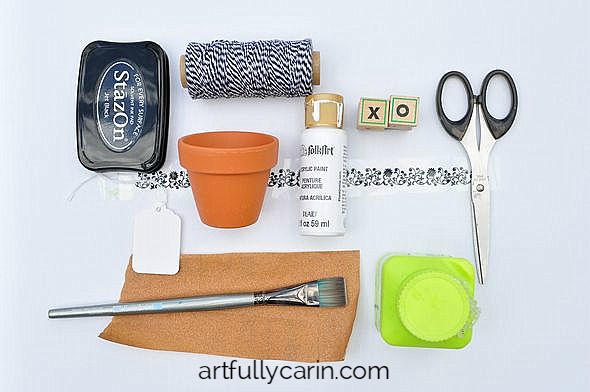 * Small terracotta pot
* White craft paint (I used Folk Art wicker white
)
* Paint brush
* Rub ons or dry letter transfers to suit the occasion (I used an old flower border from Kaisercraft, but it no longer seems to be available)
* Clear drying decoupage glue
* Fine sand paper (optional)
* Scissors
* Ribbon or twine
* Small label
* Stamps
* Ink pad (I used Stazon jet black
)
Instructions: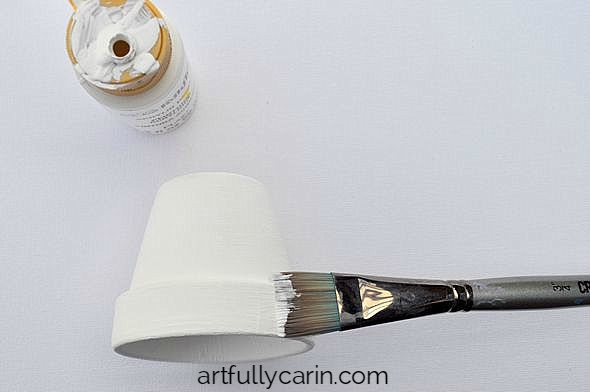 1. Paint your terracotta pot inside and out using the craft paint. Leave to dry. Apply second coat if needed.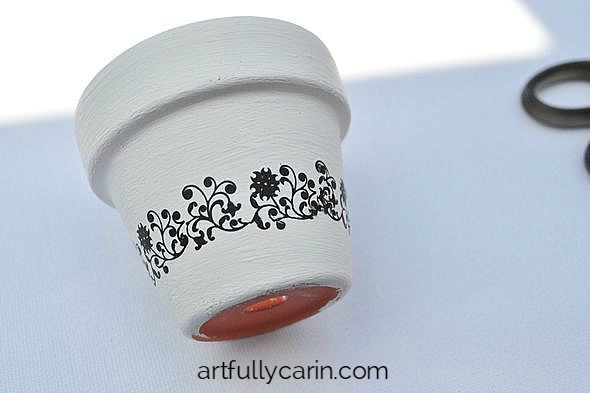 2. Rub your chosen image, border, or words onto the pot using the handle of the scissors or the stick provided with some rub ons. Tip: if you're doing a border, you may want to cut it into smaller pieces and apply them one at a time so the border stays level all the way around.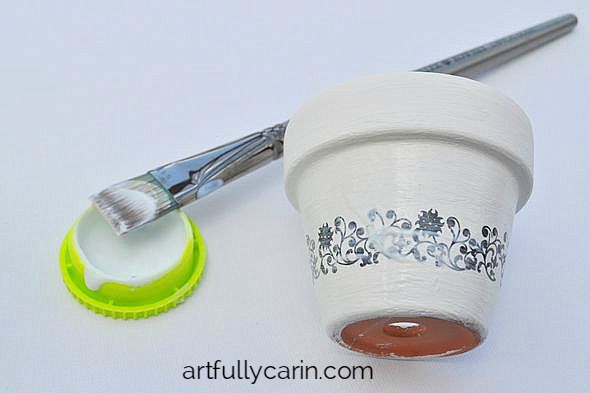 3. Apply a thin layer of decoupage to seal in the rub on. Leave to dry.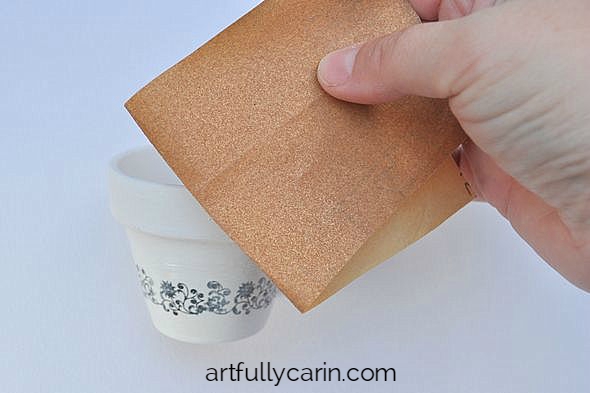 4. Optional: Gently sand the rim and outside of the pot to remove any bumps and create a chippy effect.
5. Remove the string that comes with your label, then stamp your chosen sentiment onto the label. You get the cleanest result if you turn the stamp upside down and gently pat the ink pad on top of it, before pressing down on the card on your work table.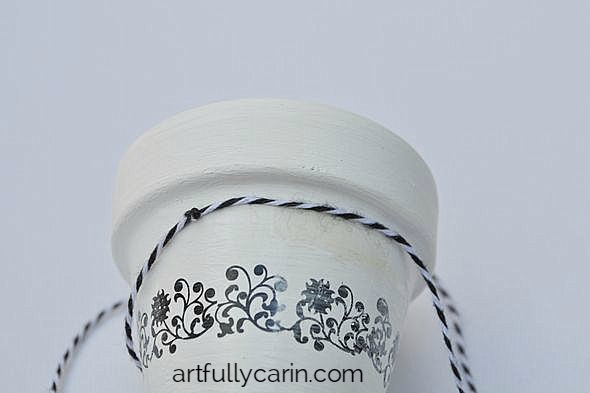 6. Cut off a piece of ribbon that fits around the top of your terracotta pot about four times. Dab a small blob of decoupage glue just under the rim of the pot to the back or side of your chosen rub on image and glue the centre of the ribbon in place. Leave to dry, then wrap the ribbon around the rim about three times, crossing the ribbon over to make it more secure whenever you get to the front.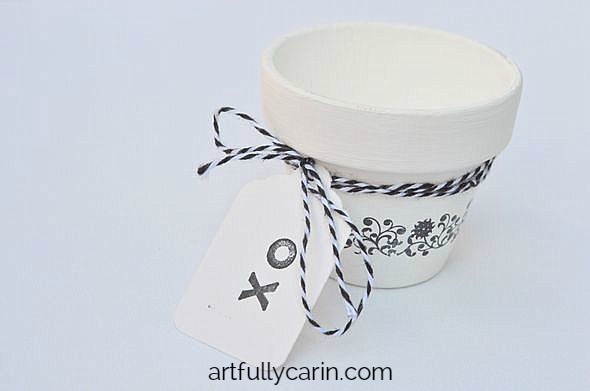 7. Thread the ribbon through the hole in the label from the back. Make a bow. Tighten as much as you want, and cut off excess ribbon.
Finished! Now go fill it with goodies.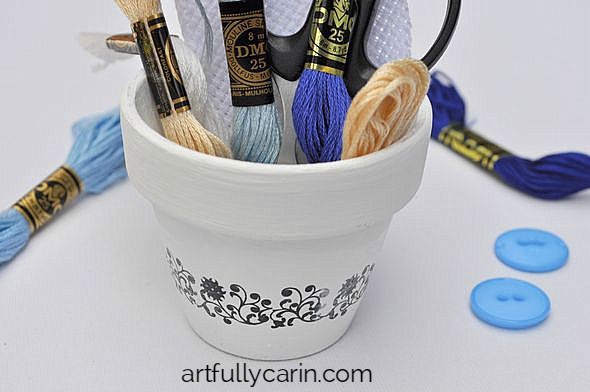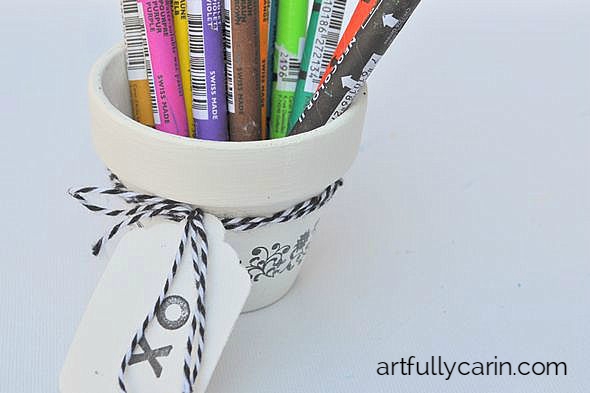 If you like this craft, please pin it so more people can find it. Thanks!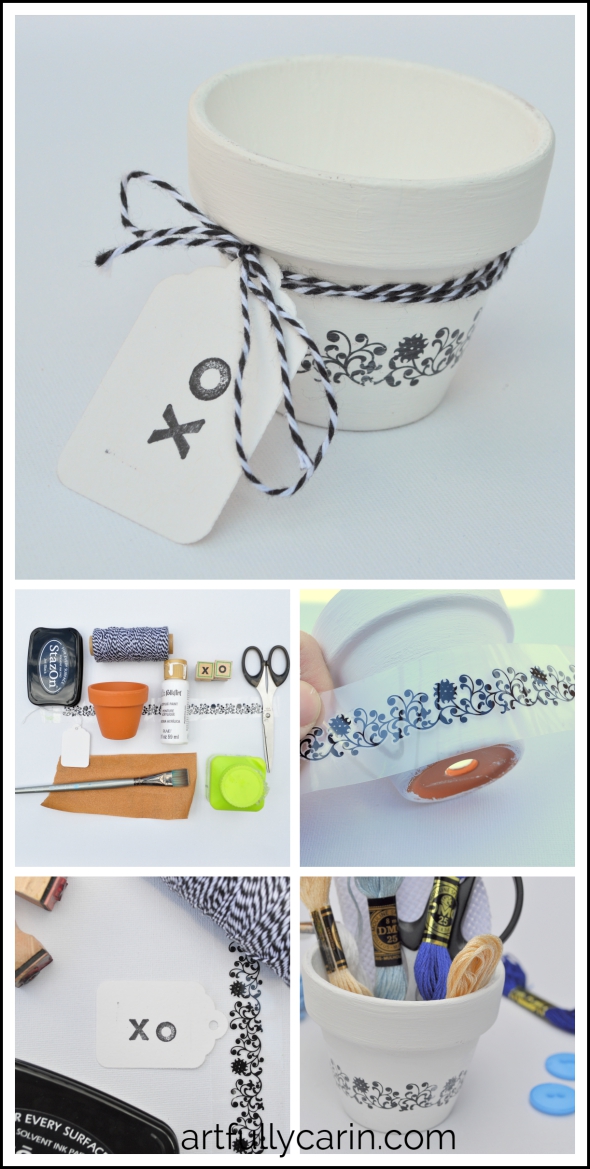 What would you want in yours?