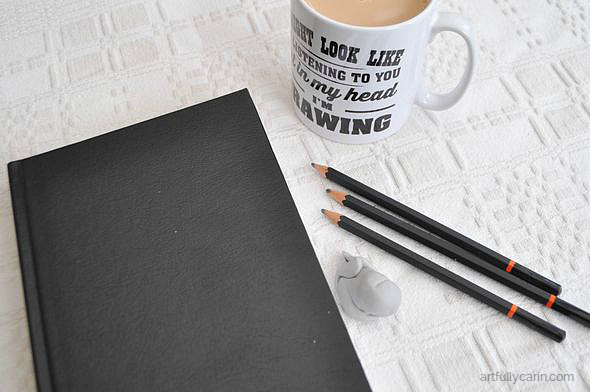 Alan got me a mug for Christmas that says "I might look like I'm listening to you, but in my head I'm drawing". I giggled loudly when I opened the box- it is so true. I am always thinking about drawing.
I neglected my sketchbooks and pencils quite a bit last year for a number of reasons, and I missed them terribly. I am so happy and relieved that this year has brought me new opportunities to draw. I feel a bit rusty, but am launching into it with gusto.
Drawing is very personal, but hopefully my reasons for drawing will resonate with you too. Or if you haven't drawn since you were younger, maybe encourage you to take it up again.
6 reasons why I draw: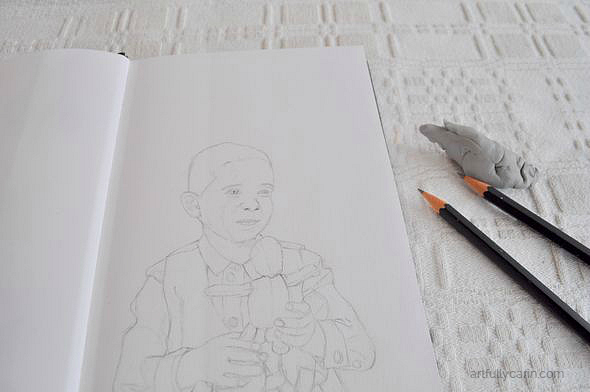 1. Observation: Drawing helps me see things much more clearly; lines, shapes, colours, patterns, and the beauty that hides in the most ordinary things.
2. Connection: I feel much closer to people and things after I have drawn them. Studying them so closely for so long, I feel like I know them much better than I did before. It often feels like an act of validation.
3. Satisfaction: Seeing something come out of nothing is such a wonderful feeling. Every drawing has its own challenges, its own lessons for you to learn, and taking the time to learn from them is very rewarding. Also, seeing the happiness on someone's face when they recognise themselves in your art is pretty special.
4. Relaxation: Even though I focus on my subject a lot, drawing is very relaxing. It has the same rhythmic qualities as some crafts and is quite meditative. It's great thinking time.
5. Improvement: There is always more to learn, and thankfully every single drawing is an opportunity for me to improve my skills. But to really benefit from it, I am making it a deliberate practice.
6. Hunger: Lastly, I draw because I feel compelled to do it. As the mug suggests, I think about it all the time. I find myself stopping and staring at something because I am fascinated by the texture, or how the light hits it. I study people with interesting features more intensely than is polite.
Why do you draw? Do you resonate with my reasons or do you have others? Please tell.