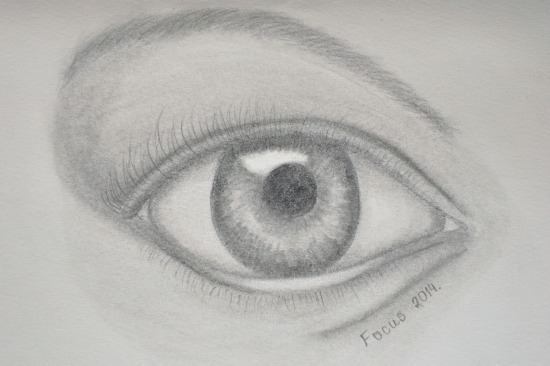 "Focus" pencil drawing of an eye in my sketchbook
Hello my dears,
Happy new year!
Hope you had a good break! Mine was wonderful. I took a slightly longer break than I had planned to since our PC crashed the other day, but we're up and running again now, refreshed and ready to go, so let's get this new year started!
My word for 2014 is "focus".
When "focus" first revealed itself to me, I shrugged it off as nothing more than a suggestion. It was too hard around the edges for me. After living with "action" for a year, I thought I needed a softer, prettier word this time around. But it was persistent and I soon came around to its way of thinking. And now I think it is, in fact, the perfect follow up. It fits into every area of my life; home, family, health, and work.
Artistically, I want to focus on doing more graphite drawings, watercolours and coloured pencil this year.
Here on the blog, I want to focus on you (yes, you!), by bringing you lots of tips and tricks on artful memory-keeping, projects for you to sink your teeth into, and put you in the focus through interviews and the like. Starting next month, on Thursday February 6 and every first Thursday of the month after that, you'll also be able to link up your own monthly highlights with me each month. More on that this Thursday. Hopefully I'll have found a better photo editing software by then too, since I lost my old one in the crash. Any suggestions on a good free one?