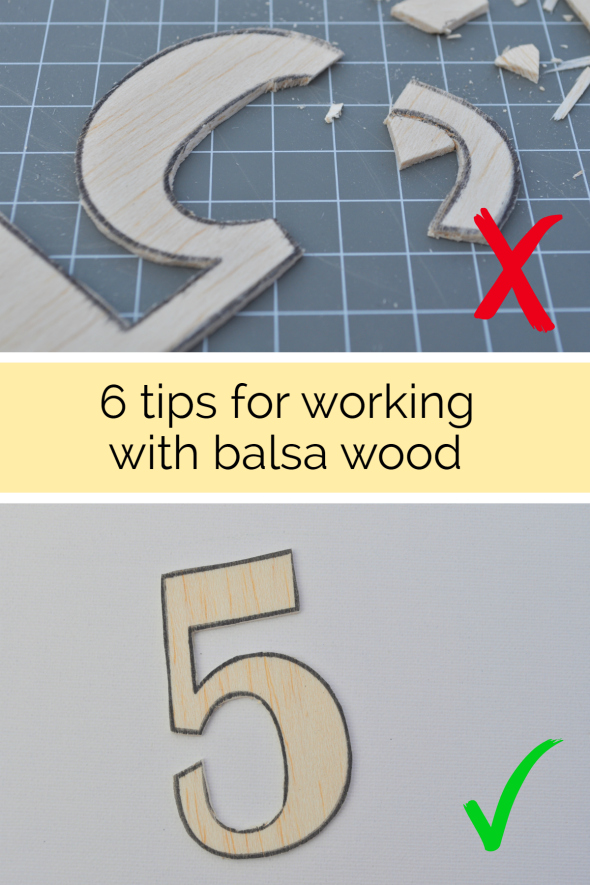 I have loved crafting with balsa since I first came across it. It has the lovely look of wood, but is incredibly easy to work with, so is good for a lot of fun projects. But I know most people have never heard of it before, unless they know someone who makes models, so I thought I'd share some of my tips for working with balsa wood before I post any more projects.
1. Use a sharp blade on your craft knife for a cleaner edge.
If you use a dull blade the wood might split or tear. For the same reason, don't use scissors, even if you think the wood is thin enough to cut that way. A sharp craft knife, razor blade, or Stanley knife is the way to go.
2. Don't cut right through on the the first go.
It's better to gently score the outline several times, adding a little more pressure with each turn, than forcing the knife right through the first time. You get a much cleaner cut and may not have to sand the piece you're working on.
3. If you're cutting odd shapes, cut the more complicated sections first.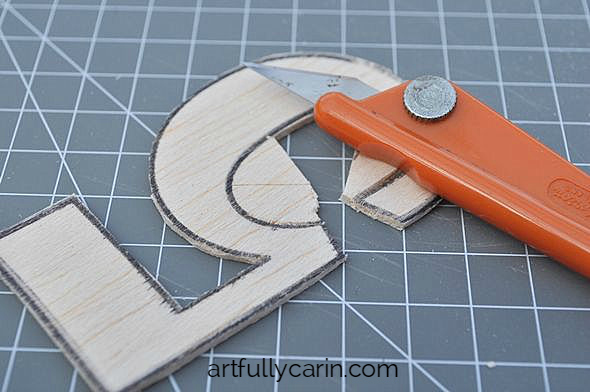 If possible, leave some wood around the shape you're trying to cut out, then cut out the more complicated pieces first. It will make it more stable. Break curves into smaller sections and do each section separately. Try not to pull too hard on the piece of wood when you are going around a curve or this will happen, especially on thinner pieces…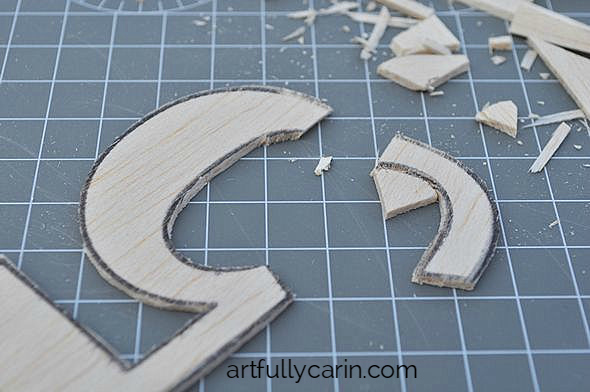 4. Use an emery board to sand down smaller pieces.
Sand paper can be a bit bulky and annoying, especially when you're working on smaller pieces, so I often use a nail file instead. Yep, a nail file. It works wonders! I try to get the ones that have a smooth side and a coarse side.
5. Use a dry brush when painting. 
If you go onto model building websites, you'll notice that painting balsa is a science in itself. The wood is really porous and soaks up paint. If it gets too wet, it warps. It could easily turn you off painting your wood. The projects I'll show on Artfully Carin are pretty small though and used in a completely different way, so they can usually take a little bit of paint. The trick is to use as dry a brush as possible. But if you're worried, test on a scrap piece first.
6. Test permanent markers on a scrap piece first.
I sometimes use permanent markers to colour in my pieces, but the markers can look completely different on wood so it's best to try them out on a scrap piece before you go ahead and colour in your entire project.
If you've never worked with balsa wood before, the wooden gift tags I showed a couple of weeks ago are a perfect beginner project. I'll show some more projects over the coming weeks and hope you get to like balsa wood as much as I do.
If you want more tips and tricks like the ones above, fun arts, crafts, and DIY projects, and peeks behind the scenes at Artfully Carin, please join me on Facebook.