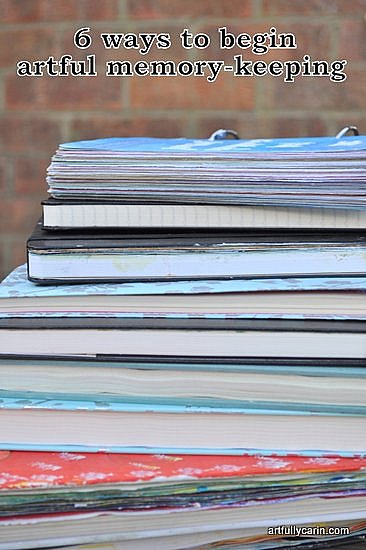 I love artful memory-keeping for a number of reasons. For me, it's a wonderful way of combining my passions for drawing and painting with my passion for memory-keeping. I have also noticed that the more I incorporate memory-keeping into my life, the more grateful I am.
I know some of you would like to try it too, but don't know where to start. Well, start here!
I use several methods for memory-keeping, depending on what I want to document. I like a mix of simpler and harder, more time consuming, projects. When I find something I love, I usually create a series. That way I can make comparisons over time (I like seeing how things develop and figure out patterns).
The methods below can be used separately or together. If you are new to artful memory-keeping, you probably want to start small and work your way up.
Here are a few ideas to get you started:
Everything journals
Last year, I started freaking out over the number of half-finished journals I had lying around,  so I decided to amalgamate all of them. Since then I use an everything journal and absolutely love it.
If you're new to artful memory-keeping, the everything journal is one of the easiest ways to get into it. As the name implies, you can use it for absolutely everything. There are no rules. And frankly it's better if it's allowed to develop naturally. I'll talk about my everything journal in more detail in a future post, but for now, let's just say that it is full of drawings (both mine and the kids'), photos, ticket stubs, and washi tape samples, making it a very visual memory-keeping tool.
Art journals.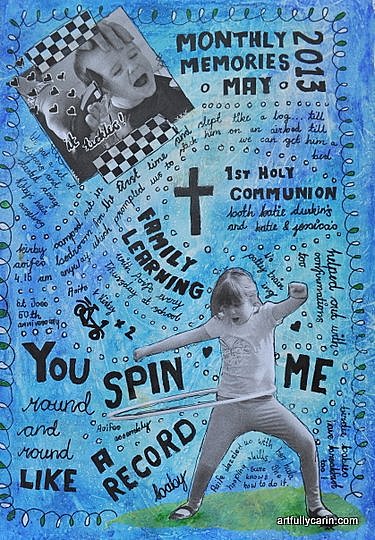 I think most art journaling is a form of memory-keeping, but there are a few ways to make it even more so, like my monthly highlights pages, calendar journaling (Kate Crane from the Kathryn Wheel shows you how to make one here), weekly planner pages (Jenny Frith from Jenny's Sketchbook shows you how to make one here). There are also lists, prompts and such.
Sketchbooks
I love my sketching childhood sketchbooks. They have become invaluable to me in a short space of time. Childhood is fleeting. Toys come and go, mannerisms and poses change often. But sketchbooks can be about anything and everything. So what would you like to sketch? Here are a few examples of of other things you may like to document for the future:
* Daily life
* Favourite holiday ornaments (especially if they have sentimental value)
* Details from a special celebration (wedding, christening, graduation…)
* The cars you've owned
* Much loved details from your childhood home
* Your family and friends
Children's scrapbooks
Get the children involved in their own memory-keeping by having them make scrapbooks of what's important to them. Have them save bits for the scrapbook throughout the week (or month, or however long you'd like to leave it in between times), then set them up with glue sticks, coloured pencils, and perhaps stickers and other embellishments, and let them do their magic.
This is a new thing for us, inspired by this post by Ronnie from Pink Ronnie. We haven't actually started yet, but I love the idea. Aoife and I have always liked crafting together. We recently decided that Kirby should join us at the table, and this would be a perfect Saturday project for us. I'm hoping we'll start this weekend. I'll keep you posted.
Children's own storybooks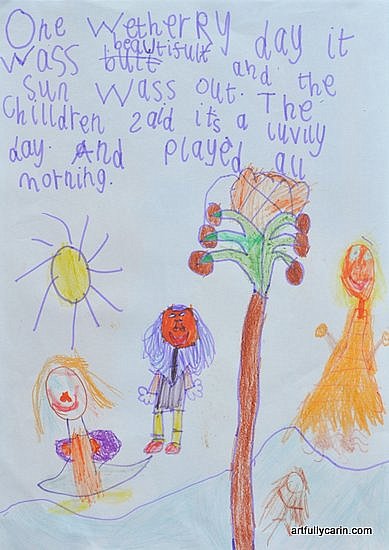 If your children enjoy painting or drawing and have a lively imagination, children's storybooks are a fun way of capturing that imagination in one place. It's also a wonderful record of their writing. To create your own, have your children draw a picture, then write a simple story to go with it (Aoife writes on the picture itself), date and sign. Keep all the stories in a folder, then every so often scan them in and create a photo book.
Home projects
There are so many fun projects out there.
Children's art: If you like sewing, you can transfer your child's drawing onto a piece of fabric and embroider it. This can then be turned into bookmarks, napkins, or throw pillows. You can scan or photograph special artwork, upload to a photo site and create photo books, mugs, mouse mats, tee shirts, key rings, and the like. Create a gallery wall in your child's bedroom (or elsewhere in your home) by framing special pieces as they are, or by using templates.
Hope you found something  here that tickled your fancy. Let me know if you decide to try something out. I'd love to hear from you. And if you're already into artful memory-keeping, is there anything you'd like to add?