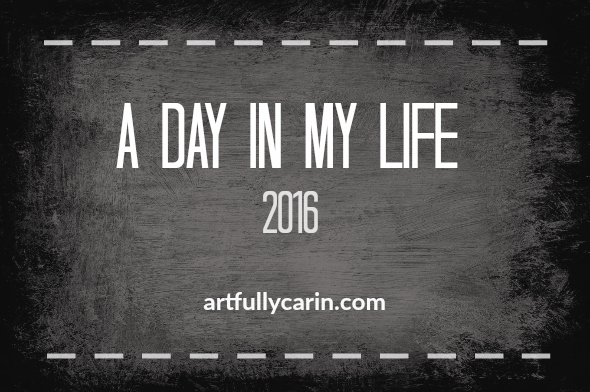 It's just over a year since I last wrote an "a day in my life" post (you can see it here). A lot has happened since then.
Early last year I finally decided to treat the blog as a business and "go pro". It seemed a good time to do it since Kirby was heading off to school in September and I'd have the whole day to myself. I had already waited a lot later than most. While I waited for him to start school, I immersed myself in the business side of blogging, took a couple of courses, read everything I could on the subject, and tried to follow most of the advice I was given.
But the more I immersed myself in the business side, the less time I had to live my life and do all the things I love doing and writing about. It took time away from the creative projects that made me want to start a blog in the first place. My creativity all but disappeared and I got into a bit of funk. I struggled to write one post a week, when I happily used to write three.
When Kirby started school I also realised, rather surprisingly, that I missed working outside the home.
So when I was forced to take a long blog break earlier this year, I used the time to mull things over and work out what I need and want from this blog, and how I can best serve you. Pro-blogging didn't really fit in.
I want the blog to complement the art-making, not be the main thing. I want to focus on quality over quantity, and only publish when I have something to share. I want to do what I love, not what I have to do to improve my rankings or get shortlisted for awards. Although I do want to get back to posting three times a week, I want to do it by creating more art and having more things to share, not just to fill an editorial calendar. I want to follow people I love and feel inspired by, not who I feel obliged to follow to get noticed. I want to be able to take care of my kids when they are sick for a long time, without stressing about unwritten posts, falling scores, and loss of earnings.
So I pulled back, licked my wounds and am now taking the first few steps to doing it my way. You may see a few changes to the blog as I get into it.
Having mulled all this over, I wasn't sure I should write another day in the life post, because I now have even less time to create than before. But I have decided to post one anyway, for the simple reason that we're all in the same boat. We all struggle to find the time to do creative projects. We all struggle to find the time to document our lives, or the lives of our kids, in meaningful ways. So if this can help one woman make the time for creative pursuits, then I'm happy.
I have been trying to come up with a routine that fits around the family, but still gives me plenty of time to draw, blog, and document our lives. All times are approximate.
6-7 am: daily sketch
Since I started working, I have been training myself to wake up later. The alarm goes off at 6.30, but I'm usually up by 6, and that's early enough for my liking. I use this quiet time to work on my daily sketch. It seems too early to do other things and is such a nice way to start the day. On the odd occasion I sleep later, I do my daily sketch as soon as I get back from the school run.
7- 9 am: family time
Nothing much has changed here. I get the kids up, dressed and fed, then take both of them to school.
9 – 10.15: home time
I use this time to prep dinner, tidy up, and hang up the washing. Sometimes I chat with my mum on Skype. I try to limit errands to once a week so I can get on at home.
10.15 – 11.30: project time
My fun time! I pour myself a pint of water and get into a project. Projects are anything from working on a larger drawing (that takes longer than a day to complete), studying one of my online classes, decorating or doing a DIY project around the house, or blogging. Most of the time I plan what I'm going to do ahead of time, and try not to jump around too much. It gets too confusing. I usually listen to music or podcasts while I work. Before I know it my alarm goes and it's time to stop.
11.30- 2 pm: work
I head off to my part time job, which I love.
2 pm – 2.30: study time
I now have this slightly awkward half an hour between coming back from work and heading back out to pick up the kids. I try to use it well, so I mostly use it to study. I'm taking a couple of art courses online, so I watch those videos, or read blogs or books, while having a light lunch.
2.30- 7.30 pm: family time
I pick up Aoife and Kirby from school, oversee homework, let them play for a bit, and finish off dinner. Now the weather is nice, they play outside with the neighbourhood kids a lot, which means I can get more done around the house, or relax with a book. The more housework I can get done during the week, the less I have to do at the weekend.
7.30- 9.30: quiet work/ relax time
If Al is at home, we relax, watch a show or two, and catch up on each other's day. Some evenings, I edit photos, carry on with one of the courses I'm taking, or catch up on blogs. I try to avoid drawing or writing blog posts at that time of night because my brain has fried. I'm usually in bed by 9.30- 10 pm.
It's not as regimented as it looks in the blog post, but having a routine and blocking in art time helps me make it a priority. It's important to me to have time to draw every day, even if it's just that quick daily sketch in the morning.
When can you or do you make time for art?