I first came across these annual lists over at iHanna's a few years ago and have been amazed by them ever since. I love the idea of celebrating what we have accomplished in a year. And as a memory-keeper, I find it a great record too.
2012 was a slow year for me. I felt like I was in recovery for most of it since 2011 took so much out of me, but there are still plenty of creative achiements to celebrate. Some are big, some are small, and some may not even seem like achievements to anyone but me, but they all matter.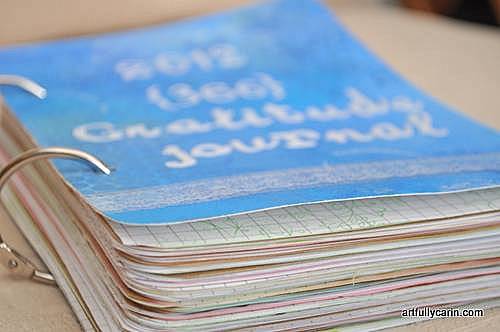 1. I chose "gratitude" as my word of the year, and found I was already a lot more grateful than I had given myself credit for.
2. I made and kept a daily gratitude journal.
3. I successfully designed Aoife's new bedroom. It's pink and purple, which is her idea of heaven, and she absolutely loves it!
4. I bought a 50mm lens for my Nikon DSLR.
5. I hosted my first BYO (bring your own) craft evening at my home.
6. I took (at least) a photo a day.
7. I won a lovely doodle-ribbon from Helena at Craft & Creativity.
8. I made my first ever ATCs (creating 6 in total over the year)…
9. and took part in a ATC background swap.
10. I bought 8 online classes: "How to Build a Blog You Truly Love" with Liv Lane, "the Art of Wild Abandonment", "She Art", "Your Living Canvas",  and "She Has Three Hearts" with Christy Tomlinson, "21 secrets" with Dirty Footprints Studio, "Art Journal  Conversion" and "Collage. Construct. Affirm" with Roben-Marie Smith, most of which will last me well into 2013.
11. I learned the basics of Windows Live Movie Maker and created 3 video collages, with a view to making more videos in 2013.
12. I tried as much as possible to support artists I admire by talking about them and/or buying a piece of their art.
13. I won an art print from Regina Lord at Creative Kismet.
14. In December, I simplified the way I read blogs and it has already made a huge impact on how much time I have for arting and blogging!
15. I greatly simplified the way I edit, organize and store photos on the PC (personal and bloggy ones), which is also good for my blogging.
16. I learned how to change the dpi (dots per inch) in Picasa (which I didn't realise could be done)
17. I read 35 books.
18. I played a lot and learned to use many new-to-me art techniques and materials, including webbing spray.
20. I created 3 blog headers for my old blog, and one for Artfully Carin.
21. I made some lovely new bloggy/ arty friends from all over the world, including (but not limited to)  Angie, Kay, Aimee, Heather, and Robin.
22. I updated the links under all my Flickr photos to lead back to Artfully Carin instead of previous blogs.
23. I bought my first ever slow cooker and declared it the best artist tool of 2012 since it allows me to make tasy homemade meals every day, be there for the kids, and still have enough time to make art.
24. I taught Aoife a quick an easy art background technique every week of the summer holidays.
25. I got my first smartphone, and learned a wonderful new world of apps and such.
26. I joined instagram.
27. I picked up my sketchbook and began drawing again. Halleluljah! Match made in heaven!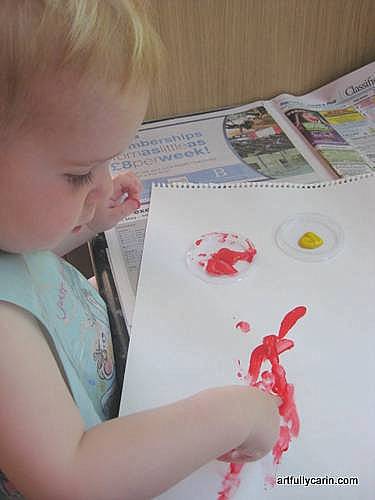 28. I introduced Kirby to drawing and painting. It is now one of his favourite things to do.
29. I created 28 art journal pages
30. and 2 canvases
31, I purged and boxed up my art studio.
32. and designed a lovely new one on paper (full reveal to come spring 2013)
33. I outsourced Aoife's arty birthday party, and learned I could create a better one at home for half the cost (even in winter when you can't take it outside)!!!
34. I created a mini-office under the stairs, which is now my blogging hub 🙂
35. I started Artfully Carin, and feel like I have finally found my real home in the blog world 🙂
36. I wrote 81 blog posts (including this one)
37.  I set up a facebook page  for Artfully Carin (and one for my old blog, which has since been deleted).
38.  I created a google+ profile and set up a new YouTube channel.
39. I started scanning all my old film photographs.
40. I added a featured page to Artfully Carin and opened myself up to doing and receiving a few guest posts and interviews.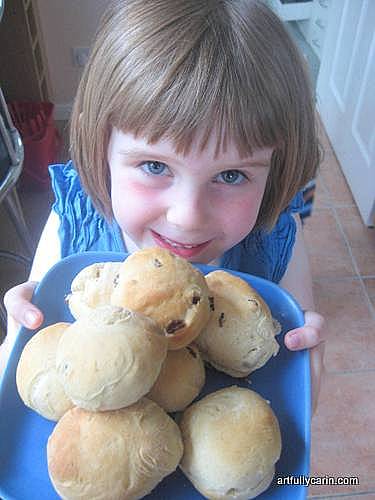 41. I baked, cooked, or made art with Aoife almost every weekend during the school year.
42. I created several Scandinavian inspired Christmas ornaments in felt.
43. I wrote a Scandinavian Christmas guest post for The Pickled Herring.
44. I was interviewed by Jennibellie for Tell All Tuesday.
45. I interviewed Aoife for her 6th birthday.
46. I joined Edie's classical bookclub (see link in sidebar) and am highly inspired artistically by the books we're reading.
47. I created a folder each for the kids to keep their pregnancy journals, birthday interviews, and special papers, and am so relieved to have finally found a system that works for us.
48. I changed things up a bit for Lucia and hosted my first ever glögg party (mulled wine party) instead of having a sit down dinner, allowing us to invite more friends and neighbours.
49. I mind-mapped and journaled my creative dreams for 2013, and am so psyched to get started.
50. I went through my archives and made every single photo from 2009 and most of 2010 blog- friendly (changing the size, dpi and adding water marks), with the rest to come.
51. While editing the photos, I also began changing/ tidying up all  my categories and tags to better suit this blog (work in progress).
52. I added a "from me to you set" on Flickr for Creative Commons stuff I create now and in the future.
53. I simplified my (art) journals.
54. I had a lovely day out at the Stitch & Craft Show in London in March and was inspired by all the wonderful stalls I saw and people I met.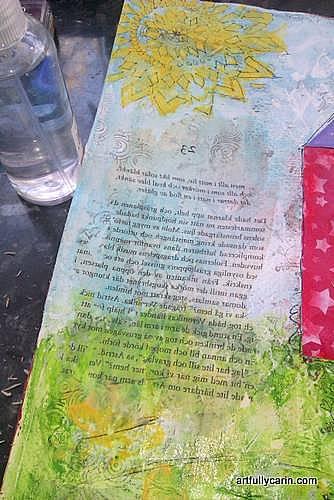 55. I made my first ever successful image transfer (a fluke it seems!)
56. I took part in my first ever blog hop, and did two in total this year.
57. I created two of the social media icons in the sidebar myself (goodreads and instagram).
58. I created a patterned art journal page background each day throughout December with A for Anika's pattern a day challenge (see instagram or flickr feeds for patterns, though I'm a bit behind on uploading them since we're all sick).
59. I remembered how much I enjoy storytelling and began studying it again.
60. As if by magic (or so it seemed), I started connecting the dots of the many weird and wonderful (and seemingly unrelated) hobbies and interests I've had over the past 40 years and a beautiful pattern emerged, resulting in a greater sense of purpose and focus.
Looking forward, 2013 seems very exciting. I'm hoping to make the most of that purpose and focus I found towards the end of the year and build on it. It'll be a busy year, but so worth it. I can't wait to get going!
Hope you have a wonderful 2013!
See you soon,
Carin, xo