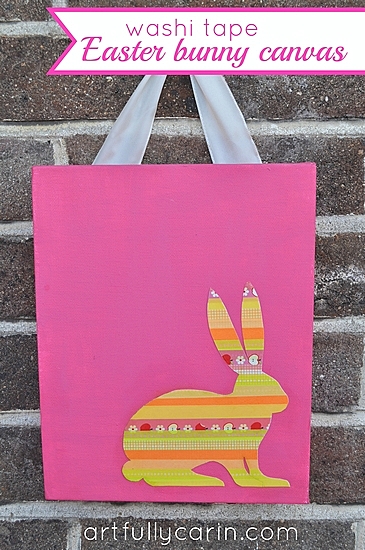 I was trying to purge my craft supplies in the garage when Aoife spotted some small canvases and my box of washi tape and asked if we could make something with them. Not one to turn down an art or craft opportunity with my kids, I said yes, then wondered what to do. But with Easter just around the corner, it seemed right we should make Easter crafts. I had been playing around with some Easter bunny drawings, so I decided to use them.
This is such a versatile project. It can be done on canvas or watercolour paper, depending on how you want to display it, and in whatever colours you fancy or have available. I resisted the temptation to stamp "Happy Easter" all over the canvases when we were finished because  I think they look good enough to have up all year (or at least all spring). 
I also think  a fluffy white pom pom would look quite cute for a tail, but I didn't have any yarn or pom poms at home. Maybe you do?
Supplies:
* Canvas (watercolour paper would work too if you'd rather frame it)
* Acrylic craft paints
* Card (an old cereal box would do too)
* Selection of washi tapes and/ or other decorative tapes
* Print out of bunny template
* Scissors
* Adhesive (the kids used PVA glue, and I used gel medium)
* white pom poms or buttons for the tail (optional)
* Ribbon (optional)
* Stapler (optional)
Instructions
1. Paint the canvas in your choice of colour.
2. Lay down strips of washi tape on the card, making sure they overlap.
3. Turn the card over and trace the outline of the bunny. Cut out.
4. Glue into position on your canvas. You may want to add a thin coat of adhesive to the top too to keep the tape in place.
5. Cut a piece of ribbon to fit your canvas (if using) and glue onto the back of the canvas, then add a few staples for extra strength if you want  to.
6. Hang and enjoy!
We really enjoyed making this project. It was a fun and easy craft project for the kids, and I had fun with it too. Even though we used the same materials, they all have a distinct look and feel to them since we chose different background colours, layouts, and had our bunnies facing different directions.  I made the pink canvas, Aoife the yellow, and Kirby the purple. 
If you make one, I'd love to see it. Please tag me on Instagram, or leave a link in the comments below. Thanks! Have fun!