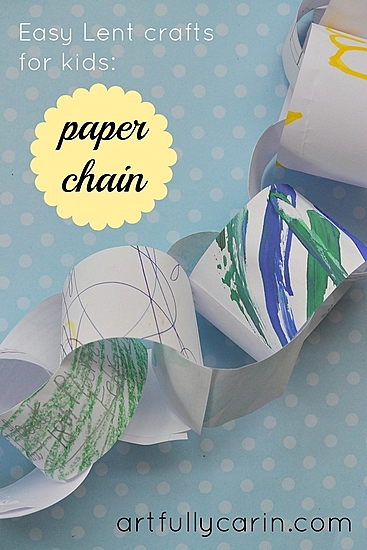 Next Wednesday is Ash Wednesday- the beginning of Lent. I can't quite believe it. It seems like it was just Christmas! And Easter is late this year, so go figure!
My two are really excited about Lent this year.
Aoife is starting to get Lent now, and has been preparing for it for weeks. I even found her hunched over a piece of paper the other week, making a chart of all the things she could give up. She had some complicated rating system going on that only she could understand, and was very serious about the whole thing.
Kirby, not so much! But his sister's excitement is rubbing off.
Lent is a long time for kids to visualise though, especially for preschoolers like Kirby, so I have been trying to think of some quick and easy Lent crafts for us to do that would not only help them understand Lent a bit better, but help them count down to Easter.
Old kids' drawings and paintings to the rescue!
We cleared out their art drawer the other day and adapted an old birthday favourite… the paper chain.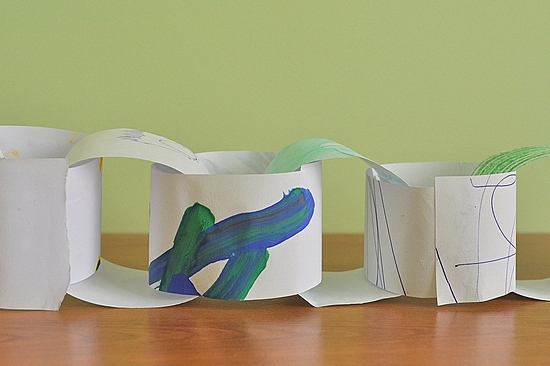 I love this kind of craft because it's so quick and easy, we always have more drawings and painting lying around than we know what to do with, and the kids love cutting and gluing.
If your kids can't wait for Easter, you might want to make one too. It will save your sanity in the long run. You'll dodge all those "How many more days till Easter?" questions like a pro. Forget "there's an app for that". In this case there's a paper chain for that! 
How to make a simple paper chain:
1. Gather up some of your children's old drawings and pictures that they are happy to part with and cut them into 46 even strips. Depending on their age, they may be able to  do this themselves.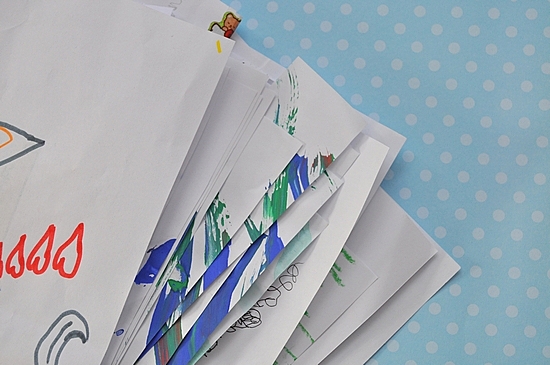 2. Shuffle the strips around a little so you get a nice variation of patterns and colours on the chain.
3. Glue the ends of the first strip together to make a loop, making sure the painted side is on the outside. Hold the two ends together for a few seconds to make sure they stick.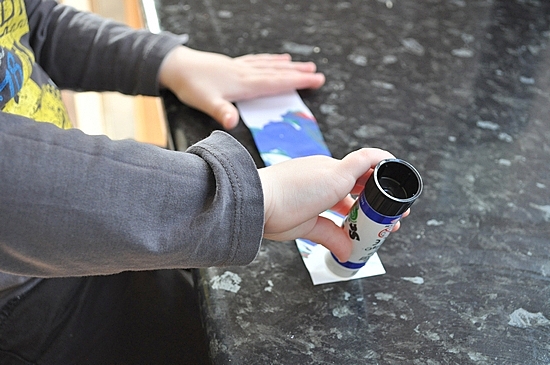 4. Carefully pull the second strip through the first loop and glue the two ends together to make a new loop.
5. Continue to do this until you have used up all your strips of paper.
6. Hang or drape the paper chain somewhere your children can see it. Then let them rip off a strip each day until Easter.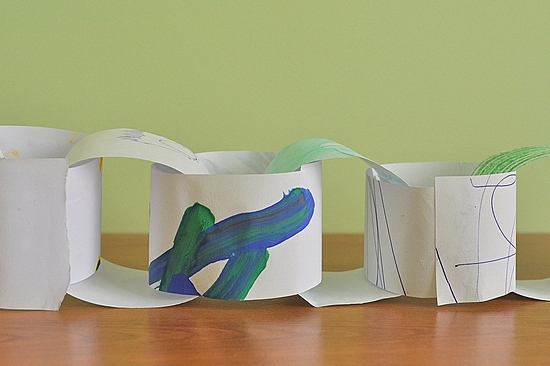 I didn't do it this time since Kirby is still so little, but you can easily make the paper chain even more meaningful by writing names or Bible verses to each of the strips, and have the kids pray for that person, or read that verse that day.
Alternative
You can also cut 46 egg shaped pieces of the paintings, punch a couple of holes in the top of each egg, and string them together like a garland.