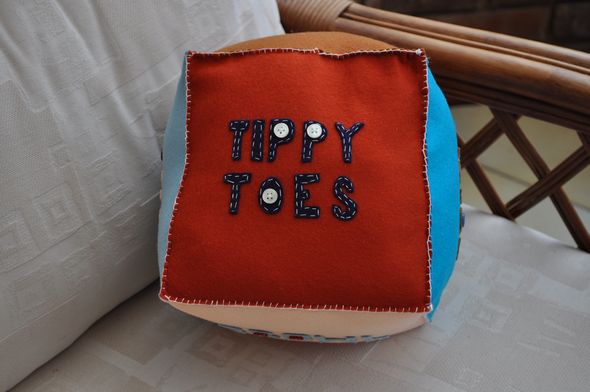 Aoife is really into games this summer, which is so much fun. We spend much of our days playing hide and seek, I spy with my little eye, board games galore, and whatever running/ jumping/ dancing game she's just made up.
So I was trying to think of a game to make Aoife to keep her moving indoors even on the wettest of days (it is raining a lot  this summer and she's a real bundle of energy), and which preferably only used scraps from my stash.
I thought she'd like this felt activity die.
It was inspired by something similar seen on Cbeebies this spring (which is kind of funny since it was made to keep her away from the telly), which I thought Aoife would like.
And she does. She absolutely loves it.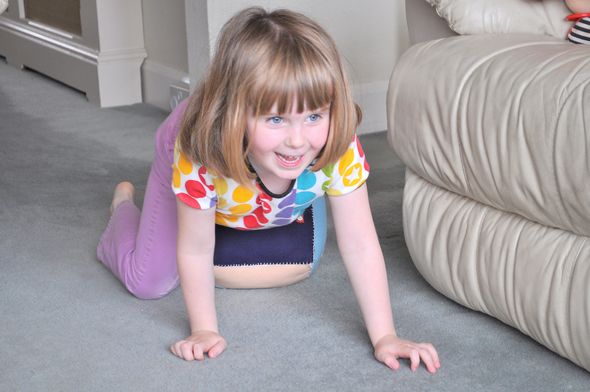 Do you want to make one too?
You'll need:
Paper and pencil, or letter templates
Scissors
Felt scraps for 6 squares
Felt (or fabric) scraps for letters
Embroidery floss
Stuffing
Buttons (optional)
How to make them:
1.  Cut out 6 felt squares of equal size.
(I had some some A4ish sheets of felt in my stash so I just folded them over like a triangle so the edges met, then cut off the excess to give me a square. That also left enough scrap felt for letters)
2. Make letter templates on your piece of paper, then cut out. Or use ready made.
3. Pin letter templates to scrap pieces of felt or fabric and cut out. Sew on buttons, if using.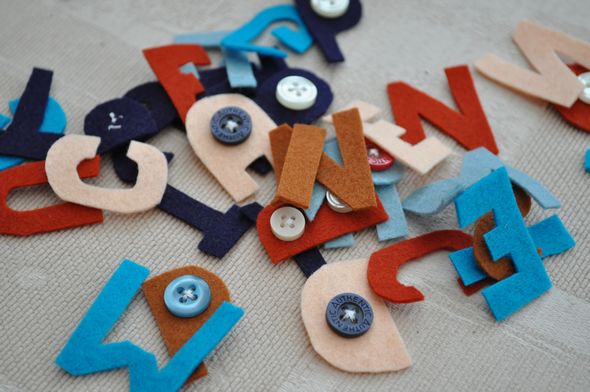 4. Centre the words on your felt squares and sew on.
(I hand-stitched mine)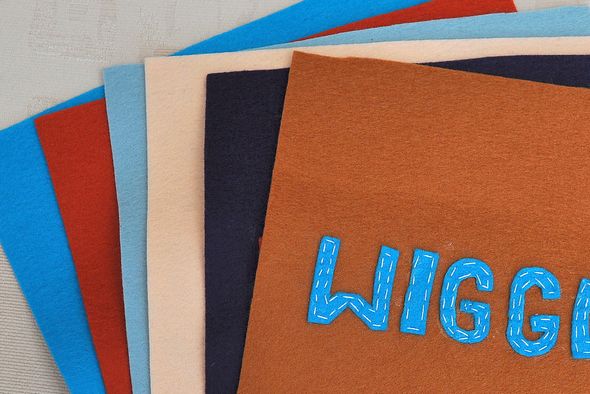 5. Arrange your squares like a cross (4 squares high, with a square either side of the second or third one up) in the order you'd like them to be, then join all sides bar one.
(I used blanket stitch)
6. Stuff the cube tightly.
7. Finish off the last edge the same way as the others.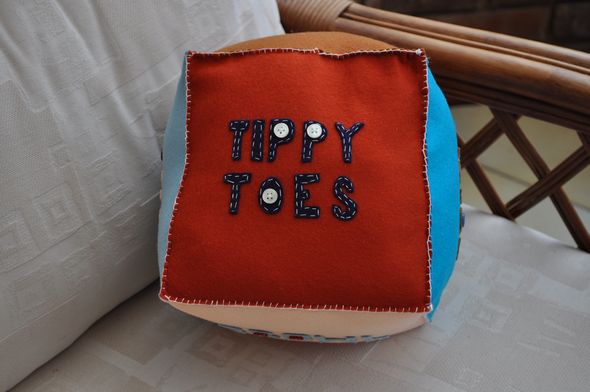 Enjoy!