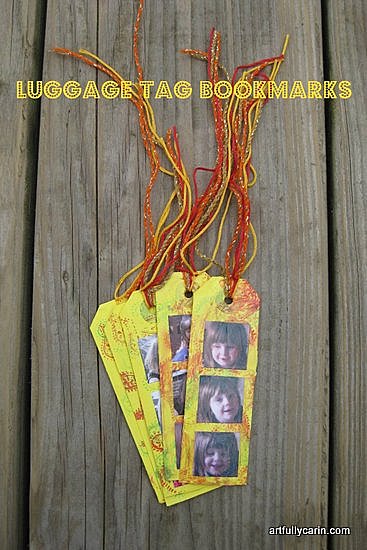 Love reading? Always lose your bookmarks, or have too many books on the go at the same time? Looking for a quick gift for grandparents or teachers? These bookmarks are very easy to do. We made them because I came across some ink stained luggage tags when I turned the office into a studio, but I think they are quite a good idea anyway.
Supplies: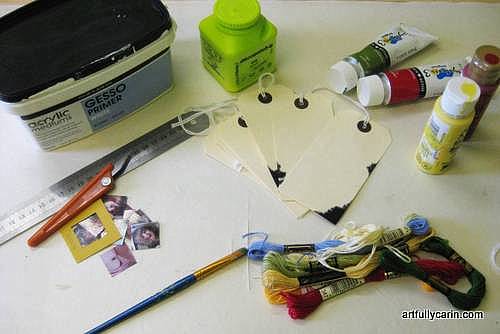 Luggage tags
Gesso
Paints
inks (optional)
Stamps (optional)
Selection of inchies (pictures measuring 1″ x 1″)
Metal ruler
Pencil
Brush
Cutting tool
Strong adhesive
String, embroidery floss, ribbon, or similar
How to make them:
1. Prepare the luggage tag. Remove the string and put aside for another project. Place some of the inchies on the tag until you find a layout you like. Measure and mark the desired width of the border around the inchies, remove and trim tag accordingly. Gesso both sides of the tag, drying in between.
2. Paint backgrounds on both sides of the tag, and dry. Stamp randomly (optional).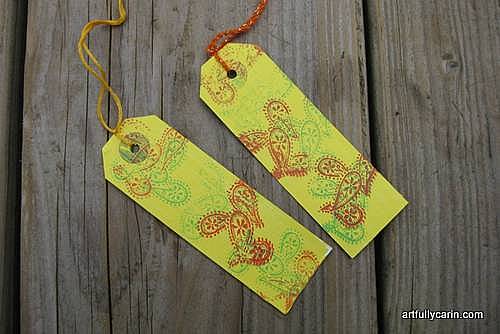 3. Glue inchies in place. Ink edges of tag if you so wish (Aoife didn't!)
4. Make tassle. String threads through the hole of the luggage tag and tie knots.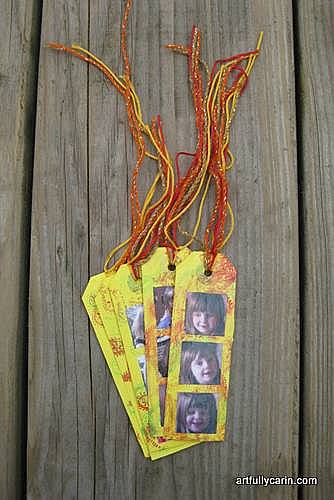 Voila! You're done!
Variation:
:: Print out words  or names and stick to one or both sides of bookmarks. For example: the names of your favourite books or authors, the names of family members or the person you are going to give the bookmark to.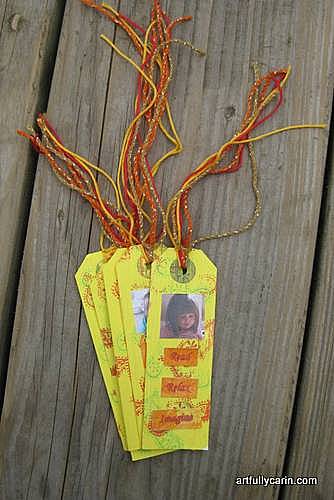 Aoife and I made these together, so they are easy enough for small children to do with help. They are also easily glammed  up for a more grown up look should you wish to make them yourself.