As a crafty/ creatively minded person it has been a delight to see Aoife being of the same mindset. Every day she exclaims "Aoife (wants to) make things!". Her favourite thing of all is painting, but baking and gluing come a pretty close second. No surprise then that her favourite holiday craft so far has been making salt dough ornaments. Let's face it, it's the best of both worlds; baking and gluing at the same time! 
We use a slow bake method. I have seen recipes asking you to bake at a higher temperature, saying they'll be finished in 20 minutes, but have found them pretty unreliable.
The recipe*:
2 cups flour
1 cup water
1/2 cup salt
1 tablespoon oil
(you can also add a little food colouring to your mix, but I have found that a little unreliable, so I prefer to decorate once they're baked)
How to make:
1) Mix all the ingredients in a bowl to form a dough, add a little more flour if needed.
2) Rest in the fridge for about an hour.
3) Roll out on a lightly floured board, cut out shapes as wanted and put on a baking tray (don't forget to make holes for hanging- a straw or skewer is great for that) in a low oven (250F/125C/Gas Mark 1/2) for 1 1/2- 2 hours, or until hard to the touch.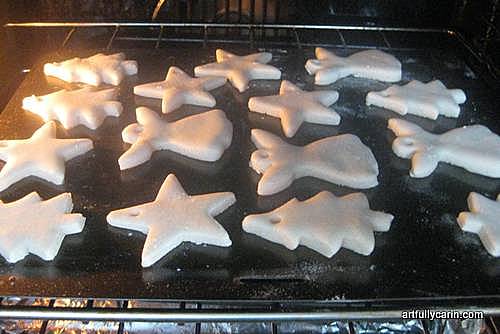 4) Leave to cool in the oven, using the after heat to toughen dough ornaments further.
5) When cold, decorate as wanted, thread string through hole, tie and hang.
Have fun!
* If using metric, use 200 ml for every cup. It will turn out a slightly smaller batch (I think one US cup is 240 ml), but the recipe is easily doubled if you want to make many.
For more easy Christmas craft ideas,  please check out my archives.